'Cis-privilege!' Billie Lee Accuses Katie Maloney Of Being Transphobic In Vicious Catfight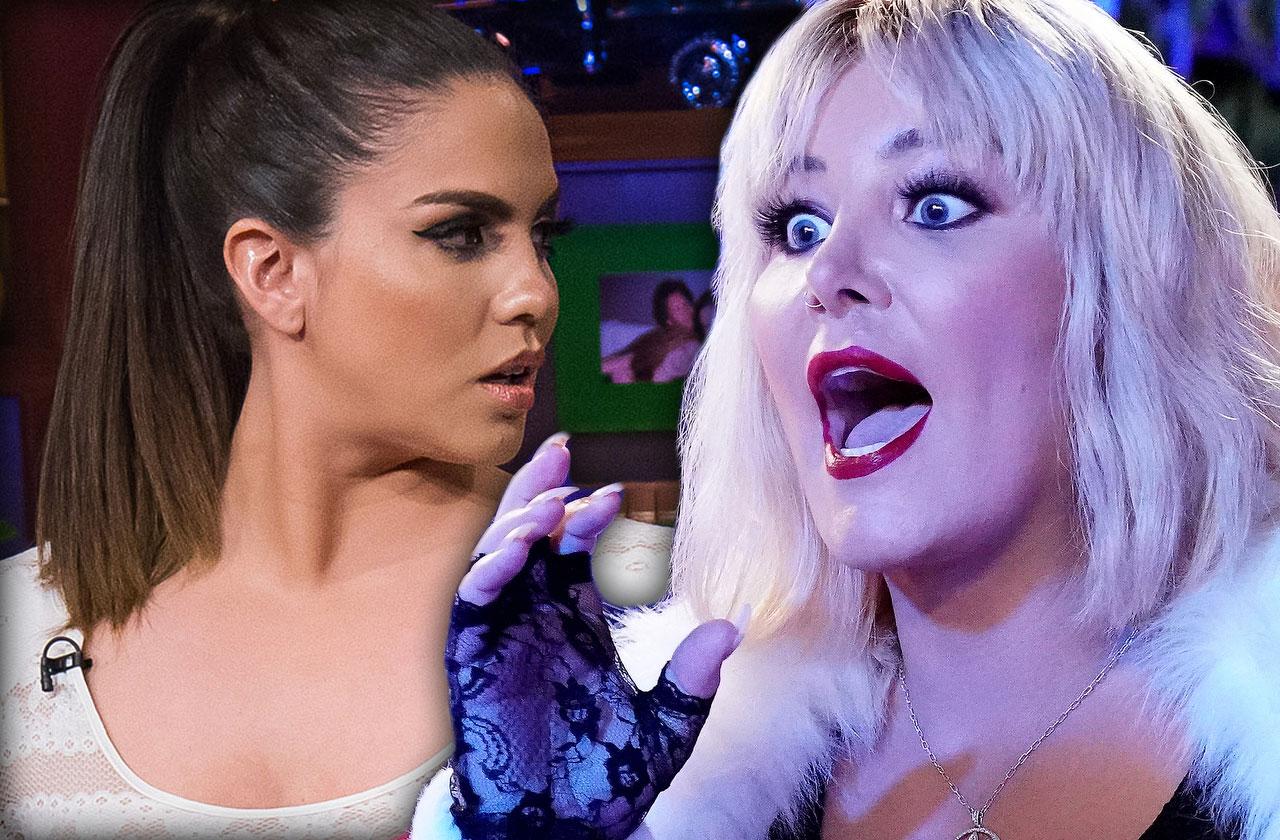 Article continues below advertisement
Meanwhile, Kennedy was furious about getting replaced by the girls.
"It really pisses me off that Katie chooses to have her night on my f***ing See You Next Tuesday. She just decides to step in here, make a flyer. Now LaLa's tits are going to get all the credit," he said about the picture of Kent's breasts that were promoting the party.
A clueless Lee found out about Girls Night In via social media!
"When yo co-workers don't include the only trans girl in GIRLS night at your own job! On the night you work! #rudeAF #TransIsBeautiful," he angrily tweeted.
Maloney was immediately defensive. "Billie is trying to insinuate that we left her out because she is trans. No. Not for a minute did I think that Billie wouldn't be there," she said.
But in a flashback scene, viewers could see Madix asking if Lee could be invited and Maloney slurring her words, saying: "Listen, everyone is invited, but I don't need her help."
Maloney continued to insist she had no ill intentions.
Article continues below advertisement
"She's gone on a smear campaign to say I've purposefully left her out. I don't pretend to know what kind of adversity she's had to overcome and face. I do know that since we've met her, and she's told me her story I've had nothing but compassion and support for her — and she knows that."
Marie and Kent discussed the situation.
"First of all, it is not about you being trans. Don't get it twisted," Marie said and Kent agreed.
"She has been nothing but rude. She stirs the pot. And now she's liking posts that say the girls at SUR are transphobic. Yes, it is mainly directed at Katie, but we're all clumped into this too," Kent said in her confessional.
Maloney gave her side of the story: "It's really simple. I only tagged the people in the Instagram post that helped me plan the party," Maloney told Schroeder when they were getting ready for Girls Night In. "She was on the schedule. She was invited. End of story."
Article continues below advertisement
Schroeder and Maloney were discussing the situation the day of the Girls Night In Party and Schroeder took Maloney's side, saying she thought Lee's tweet was "the opposite of what her message is. Namaste, love, acceptance. Hear people out."
"She never even gave me the benefit of the doubt," Maloney said.
The night of the party, Lee was unhappy and feeling excluded.
"As a child, I wasn't allowed to go to girl things because I was born a boy," she said during her confessional. "I would miss out on things, and it would just make me feel like I was wrong. So, I felt this rush of shame when I wasn't included."
Marie and Madix tried to calm Lee down.
"I don't want anybody to feel like they're left out," Madix said, but Lee wasn't backing down.
"I was excluded. Why are you leaving out the trans woman?" she said.
"You and Katie have a personal beef with each other that needs to be worked out," Madix told her. "I totally get that. But I also get why your feelings were hurt."
"I'm stuck in the middle between two girls that I'm really good friends with," Madix explained in her confessional. "I completely empathize where Billie is coming from. But at the same time Katie and Billie just had an altercation at brunch. If I was Katie, I probably wouldn't have included her either."
Article continues below advertisement
Lee finally confronted Maloney about her hurt feelings.
"Girl, you did not include me in any of this! I've been rejected my entire life and have not been able to go to girls' things, and then my co-worker doesn't invite me?" Lee argued.
"This is for everyone," Maloney said.
"This is not about that!" Lee answered.
Marie then told Lee that by posting the tweet, she actually made things worse. But Lee defended herself. "#TransIsBeautiful because trans is beautiful!" she said.
Maloney was irate. "You perpetuating and insinuating that I'm any kind of discriminatory person — that is the grossest extrapolation ever!" she told Lee.
"I'm coming from a place where I'm a trans woman and you're making a girls night and never f**king included me. Stop putting words in my f**king mouth," Lee told her.
In her confessional, Lee insisted that she did not personally call Maloney transphobic.
Article continues below advertisement
"No, I did not call her transphobic. I liked a f***ing comment. I liked 20 comments. People that were talking about their own experience being excluded for being trans," she said. "I liked a bunch of comments."
As their fight escalated, Maloney told Lee she should apologize to her "for perpetuating this sh*t," and Lee stormed away saying: "You obviously don't get it. Cis-privilege."
Maloney was furious, yelling: "Cis-privilege?! Stop it. Cis-privilege?! F**k this s**t."
Maloney went to tell Kent and Schroeder about the fight and Kent took her side.
"Cis-privilege? Cis-privilege? F**k that b***h. Cis-privilege? What the f**k is that?" Kent screamed but she admitted during her confessional: "I don't exactly know what it means, but if it came out of Billie's mouth, I know it's f***ed up."
A furious Lee explained to Vanderpump why she was so upset.
"My feelings are really hurt. I know that I'm coming from a trans experience of not being included. This is a girls night at my job and I wasn't included," she explained.
Article continues below advertisement
"You're here darling," Vanderpump tried to tell her.
"I'm trans! And it's girls night! That's my f**king pronoun," Lee emotionally said.
"I fought for that pronoun, and you're not gonna invite me to a girls night or include me at all? She's not being sensitive at all."
Vanderpump tried to sympathize but defended the other women.
"These are girls that you've known for years. They organized it between themselves, and maybe there was some kind of little hiccup with you, but it's got nothing to do with you being transgender," she said. "I have never heard a word come out of any of their mouths of any negativity toward you regarding transgender. If anything, they've got the utmost admiration for what you've been through."
Lee, however, was not swayed by Vanderpump.
"My feelings are hurt just like her feelings are hurt," she said, ripping into Maloney.
"She's always crying about her weight, and I'm not allowed to talk about me being trans and not getting invited to a girls night?! I cannot say, 'Oh, I can't be trans.' She can put down the food and do what she needs to do. Her feelings are hurt because someone calls her fat, but my feelings can't be hurt? She pulls her fat card. I will pull my trans card," she said.
Vanderpump was stunned.
"For God's sake, I'm not going to hear this absolute nonsense," she said, clearly exhausted by the argument.
Stay with RadarOnline.com for weekly recaps of Vanderpump Rules.
We pay for juicy info! Do you have a story for RadarOnline.com? Email us at tips@radaronline.com, or call us at (866) ON-RADAR (667-2327) any time, day or night.