Gregg 'Opie' Hughes: Howard Stern 'Doesn't Give A (Bleep) About His Radio Show Anymore!'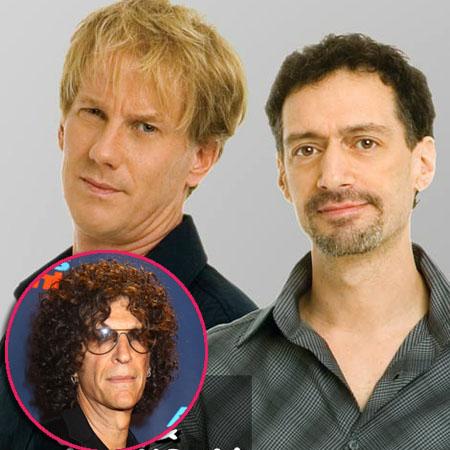 In the latest salvo in one of radio's most vicious rivalries, the Opie & Anthony show's Gregg "Opie" Hughes Thursday called out fellow SiriusXM personality Howard Stern for his reduced schedule of two-and three-day workweeks, and rerun-laden programming, saying that the King of All Media "doesn't give a f*** about his radio show" anymore.
The rant came after Hughes and co-host Anthony Cumia were bemoaning studio-related problems, with Opie grousing that Stern's wing of the company's New York City compound is undergoing a "major remodeling" despite the fact that "he doesn't even do radio shows anymore!"
Article continues below advertisement
Co-host Jim Norton then mentioned that Stern's organization has hired an efficiency expert (later identified as chief operating officer Marci Turk) to streamline the show.
"The king is panicking, the king is panicking!" Opie said. "Hire me to be the efficiency expert over there and I'll tell you what needs to be done: He has to do radio shows!
"He could blame everyone around him, he can blame his staff, he could fire people, he could bring in efficiency experts, but in the end, the guy's got to do radio shows. I've heard from his audience, they don't want to hear reruns anymore ... you gotta f***ing do radio shows, period."
With Stern's reduced live on-air schedule, his two channels on Sirius often air week-long, themed compilations, a tactic Opie said has run its' course.
"Great reruns, but it doesn't matter anymore -- fans don't care, they don't want to hear the show repackaged over and over again. They take the same bits, and they put a package around, and they think their hardcore fans won't notice.
"The guy HAS to do radio shows. Everyone knows what needs to be done -- he needs more content."
Article continues below advertisement
As Stern himself has acknowledged he does less live shows during the summer -- two days a week -- due to his judging gig on NBC's America's Got Talent, on-air personality Sam Roberts noted that "there are a significantly more episodes of America's Got Talent than there are of the Stern show" during the year's hottest months.
Opie -- who conceded there's a bit of personal jealously in Stern's ability to command a high-paid gig on a network show -- discounted the NBC primetime hit as an updated version of The Gong Show "with a little more class" and "a little more shine.
Article continues below advertisement
"He came off anti-establishment, anti-Hollywood, but every opportunity he got to so something like that, he jumped on," Cumia said. "He wanted to be the TV guy -- the guy that was accepted radaronline.com/exclusives/2013/01/howard-stern-apologizes-to-lena-dunham-for-little-fat-chick-remark/ by mainstream America -- and now he is!"
Watch the video on RadarOnline.com (Warning: Contains explicit language)
The bad blood between the shows goes back to the late 1990s, when both programs were under the umbrella of Infinity Broadcasting. Stern, who famously battled the FCC for years fighting for his own free speech, used his influence to implement a gag order on the rival show after they ran afoul of him.
Both The Howard Stern Show and the Opie & Anthony show air weekdays on SiriusXM at 6 am ET.