Devil In Disguise? Howard Stern Shows Softer Side In America's Got Talent Debut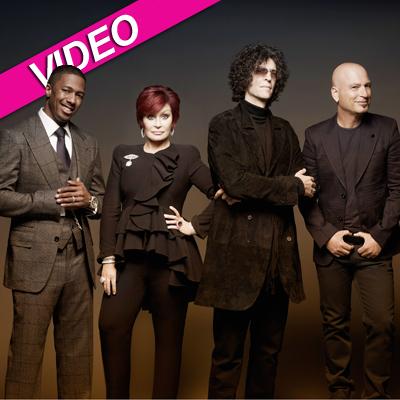 Howard Stern made his highly-anticipated debut on NBC's America's Got Talent's seventh season premiere Monday night, and he showed his charming, articulate side to a mainstream audience that might associate him with potty humor, strippers and sideshow freaks.
In weeks leading up to the premiere, the Parents Television Council called for a boycott on the show's advertisers based on Howard's "decades-long penchant for profanity" and assumption he'd "conduct himself in precisely the same manner as he has done for decades."
Article continues below advertisement
On Monday, his conduct was just fine, as the Private Parts star showed he was ready very serious about evaluating the country's hopefuls, and not doing a prime-time version of his randy radio program.
"These executives at NBC must be out of their mind taking a risk on me!" said the radio legend, who was famously fired from the Peacock network's radio division in 1985 after repeated clashes with management. "I say I won't make it through the first show -- what do you think?"
The King of All Media made it through with flying colors however -- showing his chops as a judge after years of discourse about shows such as American Idol and Dancing with the Stars on his radio show -- with well-spoken assessments of the contestants and what they brought to the table.
After the dance troupe Light Wire Theater took the stage, Howard delivered a touching soliloquy to the hard-working performers.
Article continues below advertisement
"We are the greatest country in the world," he said. "We have the most creative people. You're everything that makes America great. I applaud your originality, and I thank you for lifting everyone's spirit."
Howard, a proud father-of-three, was also moved by Maurice and Shanice Hayes, a father and daughter who performed a duet of I'll Be There.
"You guys are spectacular together," he said. "I think every father in America right now is like, 'Wow, that's the kind of relationship I want to have with my daughter.'"
MORE ON:
The Howard Stern Show
Magician Aoni Jackson didn't impress the 6-foot-5 New Yorker all that much however, as Howard gave him the "X," saying, "I think the X has a lot of power! I like hitting it."
Howard brings his larger-than-life personality and inimitable voice in replacing former judge Piers Morgan on the summer talent show alongside incumbent judges Sharon Osbourne and Howie Mandel.
In a chat with Ryan Seacrest Monday, the radio icon said he hopes to eliminate the niceties and be honest with the aspiring performers, as American Idol judges Steven Tyler and Jennifer Lopez have been criticized for being misleadingly nice to singers who just don't have it.
Article continues below advertisement
Goodbye Piers, Hello Howard? Stern In Talks To Join America's Got Talent
"You're doing a disservice to the contestants if you're not honest with them," Howard said. "If you can say to them in a constructive way, 'Something is wrong with your act."
With the return to NBC, Howard adds yet another notch to the amazing belt that's been his career, having found success in both terrestrial and satellite radio formats with his top-rated morning show; two best-selling books (1993's Private Parts and 1995's Miss America); a well-rated CBS variety show from 1998 to 2001; a record-setting pay-per-view special with Howard Stern's New Year's Rotten Eve 1994; and a number one movie with 1997's Private Parts.