Howard Stern Hugs & Kisses Matt Lauer In Hilarious Today Show Interview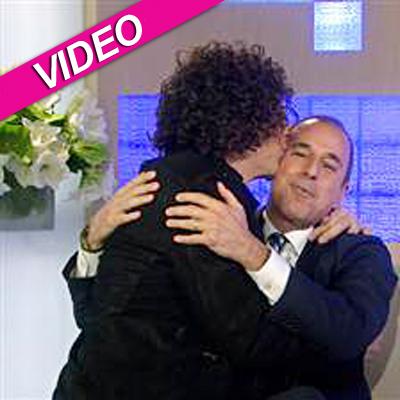 Howard Stern hugged and kissed Matt Lauer at the end of a hilarious interview on Thursday's Today show as the King of All Media talked about replacing former judge Piers Morgan on NBC's America's Got Talent.
The Private Parts star said it's "very silly" people are already making predictions he'll be bringing a lewd and crude schtick to primetime.
"Why don't you tune in Monday night and see how I am as a judge?" he said. "I think what you'll find is that we have a panel that, unlike these other judging shows -- I watch American Idol sometimes, and those three judges, they don't have a word of criticism. And I think that's selfish: I think you owe it to the contestants to offer criticism."
Article continues below advertisement
Howard said he's gotten a bad rap from critics who think he'll unleash his verbal arsenal on contestants.
"What am I, Frankenstein? I'm a compassionate person, I'm a father, I've raised three daughters, and there is compassion, but there's also honesty," the radio legend said. "I'm an honest judge, and that's what I think America needs. No more of this kind of, 'Oh everyone's wonderful' -- everyone can't be wonderful!
"It's a talent competition, and what I'm going to offer the contestants is a way to win the competition."
Asked about boycotts in the works, particularly one from the Parents Television Council, Stern was unconcerned.
"First of all, NBC should pay them millions of dollars -- the more they keep issuing these statements, it makes me seem more interesting and more controversial," said the man behind bits such as Butt Bongo Fiesta and Homeless Hollywood Squares. "I believe that's an organization of search people who are sitting home writing e-mails and trying to raise money so they can get cash."
Article continues below advertisement
Howard joked he's using the NBC gig "as a stepping stone" to the Supreme Court.
"I'll start my judgeship here and then before you know it, I'll be ruling on very important things."
Watch the video on RadarOnline.com
Howard makes his widely-anticipated America's Got Talent debut when the show returns Monday, May 14 on NBC at 8/7c.
Visit msnbc.com for breaking news, world news, and news about the economy