Howard Stern Confirms He'll Be On America's Got Talent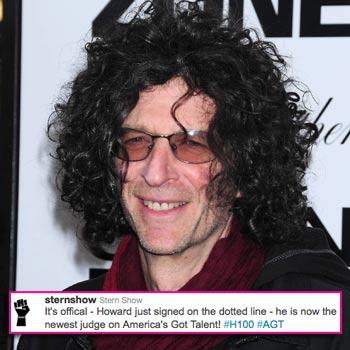 The King of All Media is heading to prime-time.
Howard Stern on his radio show Thursday confirmed he'll take the spot vacated by Piers Morgan on America's Got Talent.
"It's official - Howard just signed on the dotted line - he is now the newest judge on America's Got Talent! #H100," according to a tweet from his show's verified account Thursday. "Howard says he's really excited the America's Got Talent job."
Article continues below advertisement
And in another big announcement - production on Anerica's Got Talent will move from Los Angeles to New York City, where Stern will continue to conduct his SiriusXM radio show.
"Howard Stern's larger-than-life personality will bring a thrilling new dynamic to America's Got Talent starting this summer," said NBC alternative programming head Paul Telegdy. "He's a proven innovator and his track record in broadcasting is truly remarkable. Howard is very passionate about this show and is fully committed to its future success."
On his radio show, Stern said: "I take judging very seriously … in order to up my credibility, I will wear a suit."
Stern has long been a fan of TV talent shows, devoting countless on-air hours to discussions of two of his favorites, American Idol and Dancing with the Stars.
With the signing, the 57-year-old funnyman adds yet another notch to the amazing belt that's been his career, having found success in both terrestrial and satellite radio formats with his top-rated morning show; two best-selling books (1993's Private Parts and 1995's Miss America); a well-rated CBS variety show from 1998 to 2001; a record-setting pay-per-view special with Howard Stern's New Year's Rotten Eve 1994; and a number one movie with 1997's Private Parts.