Tweet! Tweet! Rosie O'Donnell Surprised By How Fast Word Of Her Engagement Spread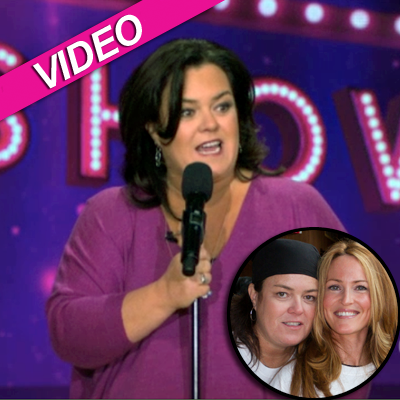 The power of social networking has impressed Rosie O'Donnell.
After the charismatic talk show host told her studio audience Monday she'd gotten engaged to her girlfriend of three months, someone tweeted it and before long, it was worldwide news.
"You know, I'm engaged, the audience hears, and somebody tweeted it ... by the time I got home it was everywhere -- everywhere!" Rosie said on her show Tuesday. "Not just the tabloids, but the CNN crawl!"
Article continues below advertisement
Responding to well-wishers on the social networking blog late Monday, Rosie wrote she was "so so so happy," posting a pic of the jewel resting on her the finger of her fiancée, 40-year-old businesswoman Michelle Rounds.
As we previously reported, when they first met, Rosie said she didn't plan on making romantic overtures toward Rounds, actually thinking she was straight.
"I walked into a Starbucks in the summer and she was holding a little puppy," Rosie, 49, told ABC's Nightline of her first meeting with her soon-to-be-wife. "I thought she was a 28-year-old heterosexual girl, because that's what she looked like to me."
Watch the video on RadarOnline.com
Rounds's parents -- who claim they had no idea she liked women until news of the romance broke -- haven't taken the news well, as her father Roger called learning of his daughter's engagement both "painful" and "shocking."
Rosie in October foreshadowed her upcoming union, telling pal Howard Stern marriage was "in the cards" for she and Rounds.
The Rosie Show airs weeknights on OWN at 7/6c.