Rosie O'Donnell Tweets Pic Of Engagement Ring Following Whirlwind Romance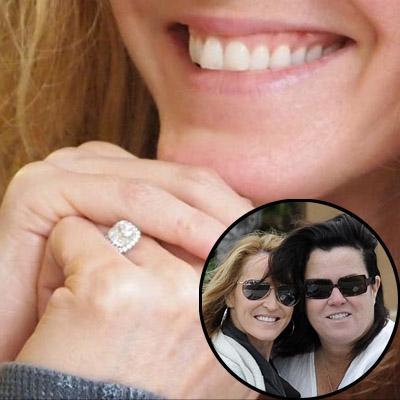 Never hesitant to make her personal life public, Rosie O'Donnell tweeted Monday night a pic of the engagement ring she gave to her girlfriend of three months, Michelle Rounds.
Responding to well-wishers on the social networking blog, Rosie wrote she was "so so so happy," along with a pic of the jewel resting on her fiancée's finger.
As we previously reported, when they first met, Rosie said she didn't plan on making romantic overtures toward Rounds, actually thinking she was straight.
Article continues below advertisement
"I walked into a Starbucks in the summer and she was holding a little puppy," Rosie, 49, told ABC's Nightline of her first meeting with the 40-year-old businesswoman. "I thought she was a 28-year-old heterosexual girl because that's what she looked like to me."
Rounds's parents -- who claim they had no idea she liked women until news of the romance broke -- have taken the news bad, as her father Roger called the news both "painful" and "shocking."