Howard Stern Ribs Ryan Seacrest About His Sexuality, Disses American Idol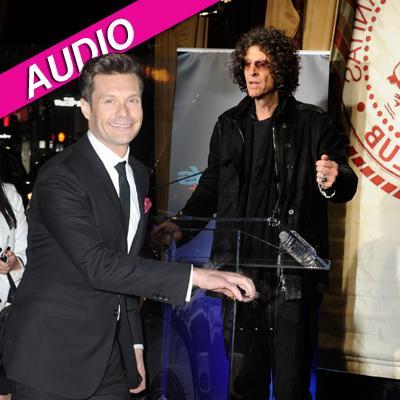 Two radio giants, Howard Stern and Ryan Seacrest, crossed paths in a simulcast in advance of Stern's widely-anticipated debut on NBC's America's Got Talent Monday night.
The Private Parts star, who's replacing former judge Piers Morgan on the summer talent show, addressed his unending ribbing of Seacrest throughout the last decade, explaining he "used to question Ryan's sexuality" because of the stories he'd hear about Ryan going out with a myriad of ladies, but not always having sex with them.
Article continues below advertisement
"And these are really hot women!" Howard said.
In speaking about the show, Howard said he's "not gonna do The Howard Stern Show there" as he's "part of an ensemble" cast.
Still, you can't take the King of All Media too far off his throne when it comes to his colleagues on the dais, Sharon Osbourne and Howie Mandel.
"I handle the disagreements on AGT beautifully," Howard said. "I turned to them and I said, 'Sharon, Howie, you've both have very nice careers, but I'm a superstar, I have a huge career, I've made 50 times more money than you and if it comes down to it, I'm the deciding factor, not you guys!'"
Ryan inquired why Howard signed up for the show, as he's employed and wealthy, as is.
"People have said, 'Does he want to be more relevant?'" Ryan asked Howard, who said, "No!" explaining that he genuinely enjoys the show and wanted to leave his fingerprint on it.
"Ryan, I want to be less relevant…the problem is I'm too relevant…I wanted to go hide," Howard said. "I wasn't looking to be more famous, I'm famous enough…I'm not looking for a paycheck."
Article continues below advertisement
Howard said one of the keys he hopes to bring to the program is on-the-level advice, adding he felt Ryan's American Idol has given Jimmy Iovine more on-air time because the current crop of judges -- Jennifer Lopez, Steven Tyler and Randy Jackson -- aren't critical enough of the hopefuls.
"You're doing a disservice to the contestants if you're not honest with them … if you can say to them in a constructive way, 'Something is wrong with your act."
Goodbye Piers, Hello Howard? Stern In Talks To Join America's Got Talent
Ryan, showing class, signed off by telling Howard, "You're smart, you know how to broadcast, you have an audience. I genuinely wish you luck with it."
Hear the audio on RadarOnline.com
With the new job, Howard adds yet another notch to the amazing belt that's been his career, having found success in both terrestrial and satellite radio formats with his top-rated morning show; two best-selling books (1993's Private Parts and 1995's Miss America); a well-rated CBS variety show from 1998 to 2001; a record-setting pay-per-view special with Howard Stern's New Year's Rotten Eve 1994; and a number one movie with 1997's Private Parts.