Howard Stern Makes 7-Year-Old Cry On America's Got Talent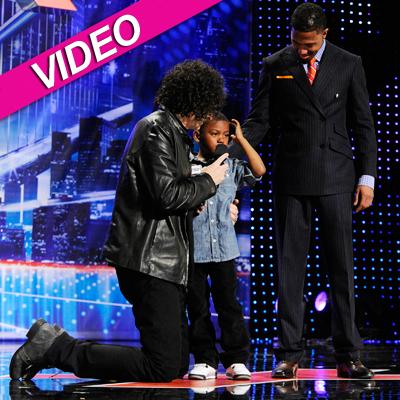 The phrase "Howard Stern's soft side" would have been an oxymoron at one time, but sure enough, the sometimes acid-tongued shock jock came off as gentle and sensitive during Monday's edition of NBC's America's Got Talent, when he consoled a weeping 7-year-old contestant named Mir Money.
After the King of All Media buzzed the adorable West Philadelphia tot rapper off, the boy began weeping and the Private Parts star sprung to action, getting onstage and reassuring the lad he's already a winner for having the guts to perform.
Article continues below advertisement
"You're a terrific young man -- you are so brave," the radio legend said. "This job is too rough for me, I don't really wanna do it anymore."
Watch the video on RadarOnline.com
The 58-year-old Sirius lynchpin then told host Nick Cannon, "I'm not cut out for this, man. I'm not cut out for it. I'm shaking man, I'm shaking. I can't do it, man. I can't do it."
America's Got Talent airs on NBC Mondays at 8/7c and Tuesdays at 9/8c.
MORE ON:
America's Got Talent