Farrah Abraham Brags About Feats As Best-Selling Author, Top-Rated TV Star; Says She Doesn't Know Why She Gets So Much Attention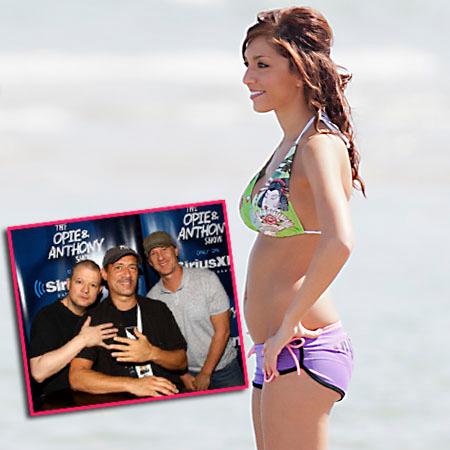 While Farrah Abraham enjoys basking in her own fame and success, she admittedly doesn't know how she got it all.
"You know, it's very weird, but in my life, I have gotten a lot of attention," the Teen Mom-turned-porn star told SiriusXM's The Opie & Anthony show Wednesday. "I don't know why, but like my first book was a New York Times bestseller, my first show was top-rated, I don't know why that is … I don't why I get so much attention."
Article continues below advertisement
The 22-year-old reality star, currently promoting her sex tape Farrah Superstar: Backdoor Teen Mom, said she doesn't understand all the clamoring and notoriety she's gotten since the release of the tape.
"I'm a mother and an adult … I'm still trying to date, I'm still trying to be a normal 20-something adult that has sex, I don't know why that's a shocker," she told the comedy show.
Farrah said she didn't understand the hype about a certain act referred to in the tape's title, saying she's been doing said act since she was 15.
"Late bloomer, right?" wisecracked show member Jim Norton.
While there's been plenty of skepticism, Farrah stuck to her story that she intended for the tape, co-starring porn vet James Deen, to be a private memoir of her youth -- not a vehicle to push her back into the center of the pop culture spotlight.
"I did that with a person I was talking to at the time, some things went negative and he tried to get popular off of me … otherwise I would have been f***ed over, and everyone would have seen me naked for free … I'm just happy that I covered my own a**!"
Article continues below advertisement
"Well, so to speak," host Anthony Cumia wryly chimed in. He later noted to Farrah that the tape "was very well done for something that just should have been between two people."
Farrah said she attributes the showmanship in the private tape as a byproduct of experience in front of the camera, her's on Teen Mom, his in the adult industry.
"When your brains are just wired to do things properly," she said, "things turn out just beautiful."
Host Gregg "Opie" Hughes asked Farrah about a rumor that the bikini she wore in the scene with Deen was yanked off eBay for "health and hygiene concerns" after one bidder was willing to plunk nearly $14,700 on it.
Farrah said she heard the auction was 86ed by the online bidding giant because the two-piece "wasn't washed," leading Opie to conclude, "People are f***ing freaks!"
The Opie & Anthony Show airs weekdays on SiriusXM at 6 am ET.