Comedy Touchdown! Late Night Hosts Mock Manti Te'o Over Fake Girlfriend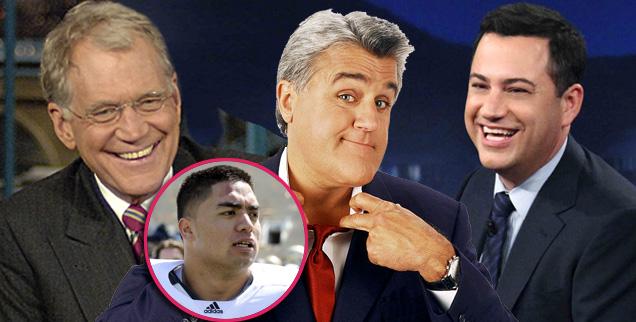 Few stories have seized the country's attention in a stranglehold like the confusing saga of Notre Dame linebacker Manti Te'o, and the kings of late night Thursday feasted on the comedic buffet the sordid saga provides, one of scam, sports and social networking.
As RadarOnline.com previously reported, Te'o's purported late girlfriend, "Lennay Kekua," didn't actually exist, a ruse the star defender may or may not have been complicit in.
Article continues below advertisement
"I was thinking about this though," said David Letterman. "The only other athlete with an imaginary girlfriend was Kris Humphries!"
The Indiana native had a clever crossover joke referring to another recent big story out of the college football ranks.
"In college it turns out his girlfriend was imaginary, but in his defense, Brent Musburger said she was really hot … really, really hot!"
He recalled, "When I was in college stuff like that would happen to me - I would meet a lot of real women but they'd give me imaginary phone numbers! One time, it was really sad because a beautiful woman faked her death to get out of going to the prom with me!"
Letterman remarked that a scandal at Notre Dame was a fresh breath of air in a sense, because prior to that, "the creepiest thing that would happen was when" Irish alum Regis Philbin would show up.
Letterman also dedicated his iconic Top Ten list to the scandal, as the list was "Top Ten Signs You Have An Imaginary Girlfriend."
They were …
10. You describe her to friends as "a nondescript female with eyes and hair"
Article continues below advertisement
9. "Photo" of girlfriend looks suspiciously like SunMaid raisin lady
8. You keep referring to her in the first person
7. Have a patent pending for a machine that gives you a hickey
6. Someone says, "Tell me about your girlfriend," you say, "Hmm...let me think of something"
5. Your imaginary friend is dating her sister
4. Everyone can tell you're arguing on the phone with Siri
3. She's never upset when you forget her imaginary birthday
2. Always pressuring you to pretend to buy engagement ring
1. Said she's too shy to meet your friends, your family, and you
Over on The Tonight Show, Jay Leno asked, "Do you understand this? Apparently, he had an online girlfriend that didn't really exist. You know where he met her? Fantasy football!
"Why does a college football player need an imaginary girlfriend?" Leno asked. "Math majors, sure, but a middle linebacker, it doesn't make any sense!"
Article continues below advertisement
Leno continued, "I want to give the benefit of the doubt for here - he may have no idea of what's real and what's not real - he plays for Notre Dame - every time he makes a tackle on the field, he sees a little leprechaun!"
Leno called the scandal the "biggest hoax revolving around Notre Dame since they were ranked number one 1 in the nation!"
He joked that the good news is that Te'o's found a new girlfriend - "A wealthy princess from Nigeria … I think it's going to work out OK!"
Jimmy Kimmel said of Lennay, "It turned out that the woman was Bruce Willis and that he was dead the whole time," referring to 1999's The Sixth Sense.
"Some people play fantasy football; Manti plays fantasy people!" Jimmy said, before airing a bit in which the real Lennay Kekua was exposed as a relative of Sesame Street stalwart, Mr. Snuffleupagus.
Conan O'Brien said of Te'o: "Some say the hoax could harm his ranking in the draft … on the other hand it could open up an entirely new branch of fantasy football!"