New Late Night TV War! Jay Leno Isn't Afraid Of Jimmy Kimmel Despite Bashing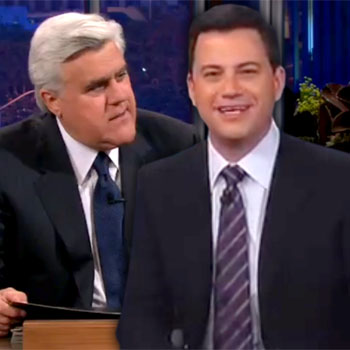 Jimmy Kimmel doesn't think Jay Leno is worth watching but NBC disagrees and has renewed his contract again, ensuring that he'll be sticking around for the late night battles.
As RadarOnline.com previously reported, Kimmel bashed Leno in his current Rolling Stone magazine cover story. "As a comedian, you can't not have disdain for what he's done. He totally sold out. He was a master chef who opened a Burger King," Kimmel said.
Article continues below advertisement
Kimmel is set to go head to head against Leno in the late night time slot starting tonight.
NBC's Bob Greenblatt announced that his network is not worried about The Tonight Show ratings taking a beating with Kimmel.
"Jay has proven surprisingly resilient," the honcho said.
Kimmel's move into the 11:35 p.m. time slot on ABC will have him going against Leno and David Letterman on CBS for the first time.
Which late night talk show will you watch? Tell us in comments.