Paternity Scandal: Lionel Richie Is Reportedly Khloe Kardashian's Real Dad — See The Spitting Image Photo Evidence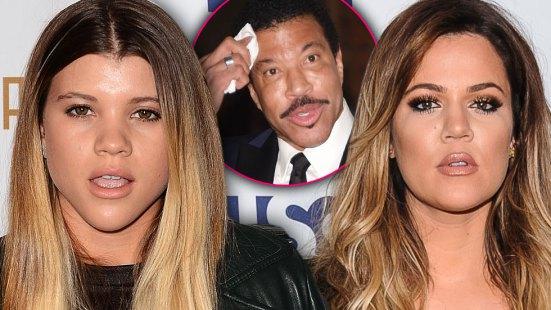 Lionel Richie's teen model daughter Sofia bears such a striking resemblance to Khloe Kardashian, it has prompted whispers that the singer might be the youngest Kardashian sister's biological father, as sources close to Kris Jenner claimed the now-"Momager" enjoyed a steamy fling with the "All Night Long" hunk during his professional peak in the early 80s.
Kris, 58, and Lionel, 65, "had a sexual affair" while she was married to Robert Kardashian Sr. (who Khloe has always publicly claimed as her father), a Richie source told InTouch, adding that the "Dancing On The Ceiling" singer openly "bragged about" his trysts with Kris.
Article continues below advertisement
The "You Are The Sun, You Are The Rain" singer "was on the outs with his wife at the time, everyone was sleeping around with everyone else back then, and Kris was hot in those days," the source added.
SEE PHOTOS OF SOFIA AND KHLOE HERE TO COMPARE
In regards to the more-than-passing resemblance, a source said that Sophia, a young model whose mother is Lionel's stunning ex-wife Diane Alexander, "looks like she could be Khloe's little sister." (In another odd twist, Sophia is good friends with Khloe's half-sister Kylie Jenner.)
One of Kris's old running mates, hairstylist Daniel DiCriscio, echoed a similar sentiment, remembering the Kris in her carefree, pre-"Momager" days of the early 1980s.
"She was a big flirt and played around," DiCriscio told the publication. "I've seen Kris do things that would blow people away.
"But I know Lionel was a huge player back then too."
Diary of A Hollywood Street King blogger Jacky Jasper was more to the point, telling the magazine that Kris "had an affair with Lionel, and I believe he is Khloe's dad."
Article continues below advertisement
Despite the onslaught of rumors linking her to the easy listening singer, a Kardashian source told the magazine it's unlikely "Kris will ever tell Khloe the truth" about the "Dancing On The Ceiling" singer, as "there's just too much at stake."
On a somewhat-positive note to the item, sources told the magazine that that Lionel "is already like family to" Khloe, as their families have been close for decades.
"She's not going to go there and ask him if he's her dad, but she does think he's a great father," the source said. "If Lionel is her dad, she'd probably be okay with it."
As we previously reported, Kris's admittedly carefree behavior of yesteryear, and Khloe's obvious cosmetic differences from sisters Kourtney and Kim, have fueled years of rumors speculating who her father might be, as names mentioned have included Robert Kardashian Sr. confidante O.J. Simpson and her longtime Alex Roldan.
Khloé returns to the boob tube early next month, when Kourtney & Khloé Take The Hamptons premieres on E! Nov. 2 at 9/8c.