Jimmy Kimmel & 'Genius' Kanye West Finally Face Off; Kanye Wants Kim Kardashian To Get Star On Hollywood Walk Of Fame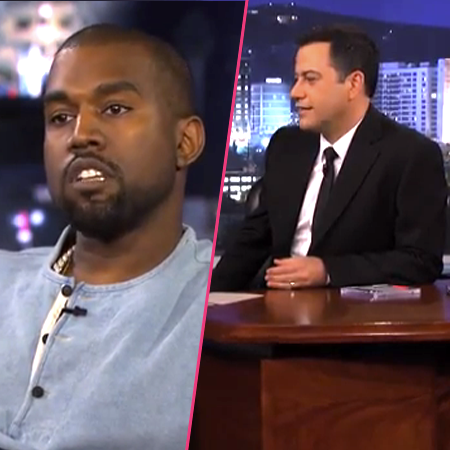 The long-awaited pow-wow between Jimmy Kimmel and Kanye West went down on the comic's late night show Wednesday, with cooler heads prevailing after the two butted heads late last month when a Kimmel skit rubbed the A-list music-maker the wrong way, spurring an angry Twitter rant.
Tensions cooled after Kimmel -- who told a stone-faced Kanye he "really felt bad about all this stuff"-- recounted all of Kanye's angry tweets, causing the rapper to break a smile.
Article continues below advertisement
In the interview, West displayed his trademark humility, at one point, proclaiming himself a genius.
"I'm totally weird and totally honest and I'm totally inappropriate sometimes, and the thing is for me not to say I'm not a genius I'd be lying to you and to myself," the "Through The Wire" singer told Kimmel, who bluntly told the singer, "I don't know if you know this, but a lot of people think you're a jerk.
Kimmel continued, "When you said you think you're a genius, I think that upsets people. But the truth is a lot of people think they're geniuses, but nobody says it because it's weird to say it. But it is most certainly more honest to say, `I am a genius.'"
The appearance gave West a chance to pontificate about a number of random topics on his mind: At one point, he focused his anger at Hollywood Walk of Fame organizers for denying his baby mama Kim Kardashian a star.
Article continues below advertisement
He said, "I want to shout out to stars of the Walk of Fame real quickly cuz they said something about they're not going to put my girl on the walk of fame because, you know, she's a reality star. It's like people are so, so dated. There's no way that Kim Kardashian shouldn't have a star on the Walk of Fame."
And of course, the mercurial music maker had an extended rant on the paparazzi, saying, "The way they talk to me and my family is disrespectful also, you know what I'm saying?
Watch the video on RadarOnline.com
"We bring something of joy to the world. When people hear my music they have a good time, and I should be respected as such when I walk down the street," he said. "Don't ask me a question about something you saw on the tabloids. Don't try to antagonize me, because it's not safe for you in this zoo, you know? Never think that I'm not from Chicago for one second."
At the conclusion of the chat, Kanye told Kimmel, "Thank you for the platform."