Kanye West Slams Jimmy Kimmel AGAIN, As Late Night Host Challenges Him To 'Rap Battle'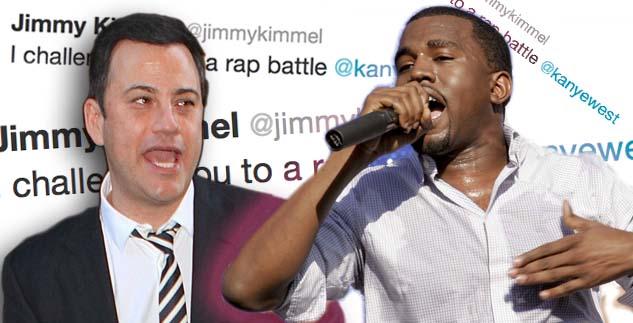 Kanye West vs. Jimmy Kimmel, part 2!
After his epic rant against a mocking skit on the late night show, Kanye just can't let things go and has again ripped the skit that he found offensive and that has caused Jimmy to challenge him to a "rap battle."
Back on Twitter, Kanye shared a quote from a young fashionista who just moved from Paris (where Kim Kardashian and Kanye vacationed before the birth of their daughter, North West) who was defending him.
Article continues below advertisement
"COMMENT FROM JIBRIL DURIMEL: "I'm really Against what Jimmy K. did with that parody." "Finally someone speaks some inspirational and real words that haven't been exposed in a while and Jimmy Kimmel comes out with this," the rapper shared from Jibril Durimel's Instagram account.
"It's simple, mediocre dreamers think this is humorous but all Kanye is pretty much saying in the interview is to dream to be the best… But then he's made out to be ridiculous for wanting to be at an even higher level of self confidence."
"Exactly what he meant by "SELF HATE!" I don't want to dick ride KANYE just saying that if more people actually listened… they'd grow wiser."
"Jimmy K. is the EVIL guy trying to keep people in a box and not want more out of themselves. He does this by making fun of real dreamers."
"THE NEW ROCKSTARS! ;) No but really please think about what i'm saying."
Jimmy quickly responded with a big challenge to Kanye:
Do you believe this feud is real or just a publicity stunt for Kanye and Jimmy? Tell us in comments.