Kanye West Goes On EPIC Rant Against Jimmy Kimmel, Says He's 'Out Of Line' & Drops The F-Bomb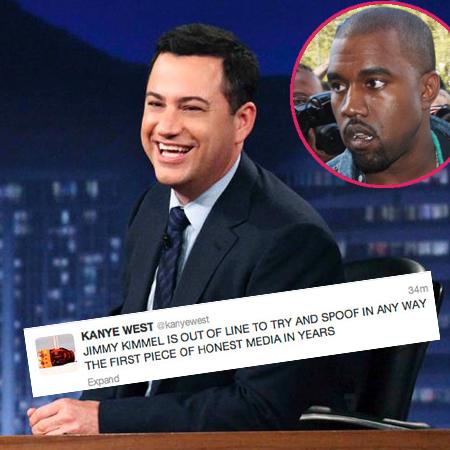 Kanye West is famous for his fights with the paparazzi and now he's on an EPIC rant against Jimmy Kimmel and RadarOnline.com has the expletive filled insults he's slinging at the talk show host.
"JIMMY KIMMEL IS OUT OF LINE TO TRY AND SPOOF IN ANY WAY THE FIRST PIECE OF HONEST MEDIA IN YEARS," Kim Kardashian's baby daddy Tweeted on Thursday night, ostensibly about a skit Jimmy did on his show about the anti-paparazzi law that just passed in California.
Article continues below advertisement
"JIMMY KIMMEL, I DON'T TAKE IT AS A JOKE…. YOU DON'T HAVE SCUM BAGS HOPPING OVER FENCES TRYING TO TAKE PICTURES OF YOUR DAUGHTER," the new dad wrote about his baby girl, North West.
Then Kanye gets nasty and personally insults the talk show host.
"JIMMY KIMMEL PUT YOURSELF IN MY SHOES … OH NO THAT MEANS YOU WOULD HAVE GOTTEN TOO MUCH GOOD P***Y IN YOUR LIFE…"
Kanye continues his diatribe, writing: "YOU CAN'T PUT YOURSELF IN MY SHOES. YOUR FACE LOOKS CRAZY… IS THAT FUNNY?… OR IF I HAD A KID SAY IT WOULD IT BE FUNNY???" and then "SHOULD I DO A SPOOF ABOUT YOUR FACE OR YOU F**KING BEN AFFLECK…#NODISRESPECTTOBENAFFLECK#ALLDISRESPECTTOJIMMYKIMMEL!!!!"
The 'I'm f**cking Ben Affleck' reference is a skit that started when Jimmy's girlfriend Sarah Silverman said she was "f**king Matt Damon" and he responded with his own skit, so is Kanye maybe joking around?
"I LIKE YOU, YOU KNOW ME, I WENT TO YOUR FAMILY'S WEDDING," the Yeezus singer slams, "WHO YOU MADE IT CLEAR TO ME WASN'T YOUR FAMILY WHEN I WAS ON THEN PHONE WITH YOU 5 MINUTES AGO, YOU MANIPULATIVE MEDIA MUTHERF**KER."
The final tweet was another personal insult about Jimmy's ex.
"SARAH SILVERMAN IS A THOUSAND TIMES FUNNIER THAN YOU AND THE WHOLE WORLD KNOWS IT!!!"
Kimmel responded, saying: "I'll tell you the whole story about @kanyewest tonight on the show - this is not a prank, I promise (unless it's being played on me)."
Do you think Kanye is really mad at Jimmy or is this all part of an elaborate skit? Tell us in comments!