Diva Alert! Kanye West Makes Outrageous Demands, Wants Dressing Room Carpet IRONED & Decorated In All White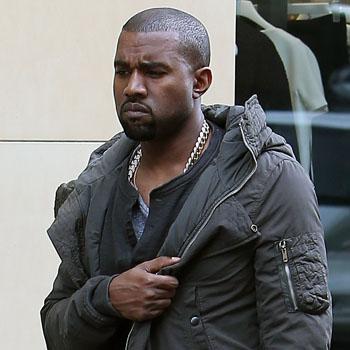 Kanye West has taken a page out of Kim Kardashian's diva book because he recently made requests so outrageous that they would make even his baby mama blush.
At a recent appearance on the BBC's Later with Jools Holland show, Kanye apparently shocked the staff by "insisting they iron his dressing room carpet before he recorded his spot on the show," Heatworld.com reported.
His demands were also about the décor of his dressing room, insisting it had to be all white – "white flowers, white curtains, white everything."
Article continues below advertisement
Kanye wasn't the only guest, Kings of Leon were also booked, but his entourage was so large that he took up more than half of the 15 dressing rooms available.
Arriving at the studio, Kanye "also ordered the studio to be pulled down and re-built to his requirements."
His requests rivaled the ultimate-diva, Mariah Carey.
A source said: "Everybody knew Kanye's reputation for being a handful, but nobody had heard of a request for a carpet to be ironed before.
"His entourage took over the studio, even though plenty of other stars were present.
"Luckily once he got to the performance he was very quiet and unassuming."
His performance was heralded by the network, who said: "We're delighted the new series of Later With Jools Holland kicked off in such superstar style and look forward to welcoming Kanye back very soon."