End Of An Era: Kim K. Serenades Jay Leno As He Bids Adieu To 'The Tonight Show' After 22 Years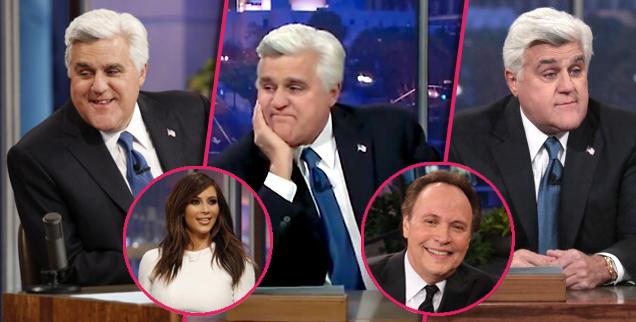 Jay Leno gracefully bowed out after his 22-year stint of the The Tonight Show on Thursday, with a look back at his greatest moments at the helm of NBC's Cadillac, and laundry list of A-list guests, including Kim Kardashian, there to send him off.
Leno called his time as host "the greatest 22 years of my life," and said he was "the luckiest guy in the world" to inherit the throne from Johnny Carson in 1992, and maintain stellar ratings for more than two decades.
Article continues below advertisement
"I want to thank you guys. You folks have been just incredibly loyal," he said. "I got to meet presidents, astronauts, movie stars. It's just been incredible … when I started hosting, Justin Bieber wasn't even born yet!
"That's why we called those 'The good old days.'"
Prior to beginning his monologue, Leno -- who received huge cheers from the studio audience -- told the crowd, "You're very kind … I don't like goodbyes. NBC does. I don't care for them."
Article continues below advertisement
Leno waxed sentimentally about the major life events that took place during the two-plus decades, as his mother, father and brother all passed away in that time.
"After that I was pretty much out of family," he said. "And the folks here became my family."
Famous faces to join the choir in Leno's swan song included Kardashian, Jack Black, Carol Burnett and Billy Crystal, who was also Leno's very first guest back in 1992.
The show biz stalwart Crystal complimented Leno for his success in filling Carson's gigantic shoes, telling Leno, "You were handed the baton by one of the all-time greats -- but once it was in your grasp, you ran the race."
While Crystal & co. serenaded Leno with a "Sound of Music" parody, others, including President Barack Obama, hailed Leno via video clips.
Watch the video on RadarOnline.com
"Jay, you've made a whole lot of jokes about me over the years, but do not worry, I'm not upset," said the commander-in-chief, who was the first sitting president to appear on The Tonight Show five years ago. "Hope you have a warm coat, funny man."
Country legend Garth Brooks closed the emotional show with two songs, "The Dance" and "Friends in Low Places."
The 63-year-old Boston-born comic said he's "real excited for" his successor Jimmy Fallon (who begins hosting Feb. 17) noting it'll be "kind of fun to be the old guy and sit back here and see where the next generation takes this great institution.
"I'm so glad I got to be a part of it, but it really is time to go and hand it to the next guy," Leno said. "And, in conclusion, I want to quote Johnny Carson: 'I bid you all a heartfelt good night.'"