It's True! Jay Leno Confirms He's Leaving The Tonight Show, Jimmy Fallon Is New Host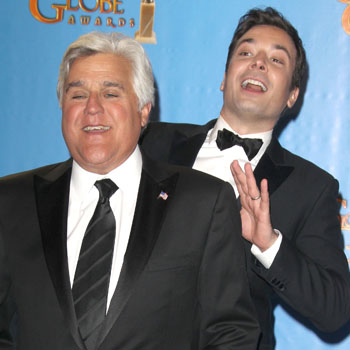 After weeks of rumors – and stinging jokes directed at NBC by Jay Leno – the longtime host of The Tonight Show confirmed Wednesday that yes, he is leaving the late night staple.
"Congratulations Jimmy," Leno said in a statement. "I hope you're as lucky as me and hold on to the job until you're the old guy. If you need me, I'll be at the garage."
Fallon, 38, released a similar statement, saying: "I'm really excited to host a show that starts today instead of tomorrow."
Article continues below advertisement
According to NBC, "As part of the transition, The Tonight Show will be returning to its original home in 30 Rock in New York" from Leno's base of Los Angeles.
Leno, 62, will end his 22-year run as host of the iconic show in spring 2014, with Fallon officially taking over as his replacement.
Steve Burke, Chief Executive Officer of NBC Universal, called Leno an "entertainment icon" and said the timing of the move couldn't be better.
"We are purposefully making this change when Jay is #1, just as Jay replaced Johnny Carson when he was #1," he said. "Jimmy Fallon is a unique talent and this is his time."
Of course, this is not the first time Leno has 'stepped down' from The Tonight Show.
In 2009, Leno first left 'Tonight' after 17 years as host, with Conan O'Brien taking over what he called was his dream job at the time.
But O'Brien's stint was famously short-lived. Less than a year after taking over for Leno, NBC dumped him and brought back Leno, whose subsequent primetime experiment, The Jay Leno Show, failed miserably in the ratings. O'Brien moved his talk show to TBS, and his show was just recently renewed for two more years.