Fugitive Killer Cop Christopher Dorner Believed Dead In Cabin Blaze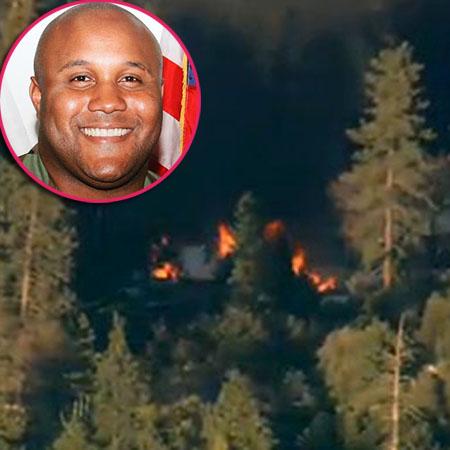 Sheriff's investigators said it could take days to identify a body believed to be the remains of fugitive ex-Los Angeles police officer Christopher Dorner, which was found in the rubble of an incinerated Big Bear Lake, Calif. log cabin late Tuesday.
"We have reason to believe that it is him," San Bernardino County sheriff's spokeswoman Cynthia Bachman said of the body, which was retrieved from the remains of the cabin after it burnt to the ground Tuesday.
Article continues below advertisement
The blaze followed a gun battle between Dorner and police that left one officer dead and another wounded.
Dorner was initially spotted Tuesday after police said he tied up two people in a cabin in the area and stole their purple Nissan. Department spokesman Lt. Patrick Foy said a California Department of Fish and Wildlife warden located the 33-year-old fugitive in a white pickup truck (which police later said he stole after crashing the Nissan).
Foy said the warden "took a close look at the driver and realized it was" Dorner, who fired off more than a dozen shots at the officials. Dorner subsequently crashed the car into a snow bank and ran into the cabin, where he traded shots with San Bernardino County sheriff's deputies, killing one and wounding another.
With Dorner still holed up in the cabin, a SWAT team broke out the windows and threw tear gas inside, telling Dorner to "surrender or come out" over their loudspeaker. Police then watched the blaze burn and waited to enter the remains of the cabin once it was determined safe to do so.
Article continues below advertisement
(As of early Wednesday, it's not clear what sparked the fire.)
Watch the video on RadarOnline.com
In all, authorities believe the disgruntled ex-cop, who once served as a reservist in the Navy, killed four people in 10 days -- two police officers and two civilians -- to avenge what he called the wrongful end of his law enforcement career via the scheming of a corrupt LAPD, according to a manifesto he posted on Facebook.