'We Will Not Tolerate This Reign Of Terror!' L.A. Mayor Announces $1 Million Reward To Capture Christopher Dorner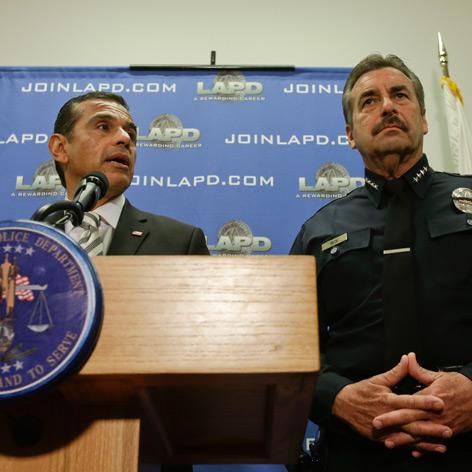 The manhunt for suspected cop killer Christopher Dorner heated up on Sunday when it was announced that a $1 million reward is being offered for information leading to his arrest and conviction.
The staggering seven-figure amount is thought to be the largest in Los Angeles history.
Los Angeles Mayor Antonio Villaraigosa made the announcement at a press conference at the LAPD headquarters.
Not mincing his words, he said: "We will not tolerate anyone undermining the security of the community. We will not tolerate this reign of terror."
Article continues below advertisement
The city of Los Angeles, numerous law enforcement agencies, private groups and anonymous donors all contributed to the hefty sum to capture the 33-year-old former L.A. cop and murder suspect who is still at large.
L.A. Police Chief Charlie Beck said the reward was "not about capturing a fleeing suspect, but about preventing another crime, likely another murder."
As RadarOnline.com has been reporting, Dorner, a former U.S. Navy Seal and L.A. police officer, is blaming the LAPD for ruining his life by firing him.
In the past seven days he is alleged to have killed the daughter of a retired LAPD officer, her fiancé, and an active duty cop.
Calling the events of the past week "absolutely terrifying" Beck added: "This is an act of domestic terrorism. He has targeted those we entrust to protect the public."
He also said that the donations have poured in from numerous sources including many anonymous donors who have offered individual sums both large and small.
As hundreds of law enforcement officials, including several canine officers and two heat-seeking helicopters, continued the search for Dorner, Beck urged the fugitive to turn himself in.