Pakistani Woman Commits Suicide After Becoming The Face Of 'Acid Terrorism'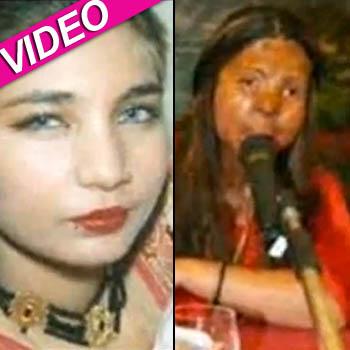 By Debbie Emery - RadarOnline.com Reporter
A woman from Pakistan who was hideously disfigured after her husband allegedly threw acid on her face has committed suicide by jumping from a sixth story apartment building in Italy.
Fakhra Yunus was just 22 when Bilar Khar allegedly attacked her while she slept in a brutal act that melted parts of her face and body to the bone, and she has been living with the hideous results for the past 12 years, reported the Telegraph.co.uk.
Article continues below advertisement
According to a neighbor, the 34-year-old was last seen staring sadly into a mirror at her marred face while weeping.
The tragic suicide comes just weeks after the plight of Pakistani acid victims was brought to the world's attention when the documentary Saving Face won an Oscar.
Yunus, a former prostitute, was estranged from her politician husband, the son of one of Pakistan's most powerful families, when he allegedly poured battery acid all over her face and body in front of their five-year-old son. It took 38 surgeries to reconstruct her face and repair the wounds, but she still mourned the loss of her stunning good looks.
Tehmina Durrani, an activist and the husband's former step-mother, said Fakhra's injuries were so extreme that she "was confronted by open disgust and contempt by everyone who set eyes on her in Pakistan."
Khar initially went into hiding after committing the attack, he was eventually arrested in 2002 but released on $4,000 bail and has since denied any involvement in the violent incident.
Over the past decade, Yunus had became a face of "acid terrorism," which has become increasingly prevalent in parts of Asia, with more than 7,000 deliberate burning attacks against women recorded by the Progressive Women's Association of Pakistan in just two Pakistani towns between 1994 and 2008, only 2 percent of which were successfully prosecuted.
Article continues below advertisement
According to The International News, in her last message before she jumped, Fakhra wrote that she was committing suicide over the silence of law on the atrocities and insensitivity of Pakistani rulers. She was laid to rest in Karachi on Sunday.
Despite being shunned in her homeland, Yunis found some peace during her final years in her adopted homeland of Italy.
"She was able to walk the streets, laze in the parks and enter a shop or a restaurant in the most prestigious of places without an iota of embarrassment. In fact every waiter served her more respectfully than he did any other, and every person who looked her way smiled and nodded with respect," explained Durrani, who helped her escape to Rome.
Watch the trailer for Saving Face: