Teenage Girl Reveals Mother's Suicide In Heartbreaking 'Life Gets Better' Video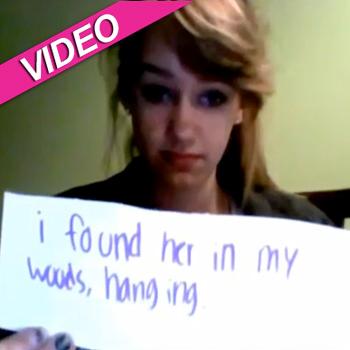 By Amber Goodhand - Radar Reporter
It's a video that will give you goosebumps.
Michigan native Kaitlin Brand, 16, lost her mother to suicide on October 5, 2011 and not even three weeks later she created a heartbreaking and touching video that you can watch on RadarOnline.com.
Using pieces of paper that she's written messages on, Kaitlin delivers them one by one while The Band Perry's hit song "If I Die Young" plays in the background.
Article continues below advertisement
"I'm in 10th grade and have amazing friends," she holds up on one card.
"I love them. They've helped me through a lot. If you were to ask someone about me... They'd probably tell you, 'She's one of the strongest girls I know.'"
The self-effacing teen refuses to accept she is strong though, insisting instead that people that are battling cancer and fighting wars are the "strong" ones.
And, what you're not expecting, is for Kaitlin to reveal that her friends think she's strong because she found her own mother hanging in the woods.
"On October 5th, 2011, my mom died. I found her in my woods, hanging," she said.
"She committed suicide."
So, how does Kaitlin manage to smile still when she's experienced such a tragedy?
She kisses a photo of her mother and then gives the message: "You're probably wondering why I'm smiling instead of crying.
"It's because my mom would want me to be HAPPY. She loved seeing me smile."
Far beyond her 15 years, (she turned sixteen shortly after the video was made) Kaitlin acknowledges that while she misses her beautiful mother, "She's in a better place now, and I have the best guardian angel ever."
Article continues below advertisement
And Kaitlin makes her message clear at the end.
"If you are having suicidal thoughts, or know someone who is, GET HELP," she emplores.
"For me. And my mom. Life gets better. I promise."
If you or someone you know is in an emotional distress or suicidal crisis, please call the Lifeline at 1-800-273-TALK (8255).