Exclusive
Dina Shacknai's Twin Sister Was At Mansion The Night Rebecca Zahau Died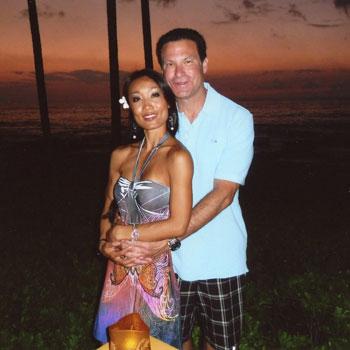 By Jen Heger - Radar Legal Editor
Dina Shacknai's twin sister, Nina Romano was at the Coronado mansion in the hours leading up to Rebecca Zahau's death, RadarOnline.com is reporting.
Rebecca's tragic death was ruled a suicide after her naked body was found hanged with her hands and feet bound, at her billionaire boyfriend Jonah Shacknai's historic Spreckles mansion in San Diego.
The death occurred just days after Jonah's six-year-old son Max had an accident in the home, while under Rebecca's care, that turned out to be fatal. Dina Shacknai was Max's mom and was married to Jonah, but divorced several years ago.
Article continues below advertisement
Rebecca's family has always maintained that she did not kill herself and have been campaigning to have the investigation into her death reopened.
As RadarOnline.com previously reported, The Dr. Phil Show will be airing a special next week over two days about Rebecca Zahau's mystery death -- her body was exhumed and a second autopsy was performed several weeks ago.
The Zahau family attorney, Anne Bremner said during the taping of The Dr. Phil Show, that there was a very strong chance Dina Shacknai was at Jonah's house, shortly before Rebecca killed herself. Law enforcement finally gave Bremner copies of the their files, which included an eyewitness stating that someone who matched Dina's description was at her ex-hubby's house.
However, it was actually Dina's fraternal twin sister, Nina who was at the house.
"There is irrefutable evidence including multiple eyewitnesses that Dina Shacknai was at the hospital with Max when this witness purported to see her at the Spreckles mansion," a source familiar with the investigation told RadarOnline.com. Max was on life support at this time, and she hardly left his side.
Nina Romano told the CBS affiliate in San Diego earlier this week, that she went to the house to get answers about Max's accident. She was staying at her sister's house, which was in close proximity to Jonah's.
Article continues below advertisement
Partial transcript of telephone interview Nina did with CBS reporter in San Diego:
"We got in the car and the first thing I said was, 'Rebecca what happened?'" recalled Romano.
"I heard Maxie was walking up the stairs and he had a cardiac arrest. That makes no sense to me. I said, 'He's a six year old boy. He's a healthy boy. He plays soccer. He plays sports. I don't understand.' And (Rebecca) just looked at me and she said, 'I know.' And that was it," said Romano, 41, during a two-hour interview detailing the events.
"And I said, 'Okay, well, where did he fall from? Did he fall from the first set of stairs, the little landing, the stairs going up, the top landing by the bedrooms, where did he fall from?'" Romano continued. "She said twice, 'He fell from the bedroom. He fell from the bedroom.' And I looked at her and said, 'How do you know that? I thought you didn't see him.' No answer."
"I kept saying to myself, 'I don't get it.' I thought I'm just going to go ask Rebecca, can you please show me where you found him? Show me how you found him. I just wanted to see. Show me where he was positioned. I just wanted to see for myself," Romano said. "That's why I went there. I just wanted her to show me how she found him because I didn't understand.
Article continues below advertisement
"I went up to the front door and rang the bell, nothing; rang the bell a second time, nothing. I knocked on the door. I looked through the glass, nothing," Romano remembered. "It didn't look like anybody was home. The whole bottom part of the house was dark.
"That overhead light was on. So that was the only light that I saw in the house. The kitchen was dark, everything was dark. So I thought, that's kind of strange because her car's here; that light's on, that's weird. So then I just thought, 'Maybe she just doesn't want to talk to me,'" according to Romano.
"So, I turned around and I left right away and I walked back to my sister's house, got ready for bed and went to sleep.
Rebecca Zahau Did Not Get On With Boyfriend's Ex-Wife, Says Sister
The Dr. Phil shows will be airing on November 14 & 15. Rebecca Zahau's sister, Mary Zahau, and Bremner have already filmed their segments for the show.
"There will be new developments that have been discovered that will be revealed during the shows," a source close to the situation tells RadarOnline.com.