Former Model Acid Attack Victim Katie Piper Reveals Her Miraculous Recovery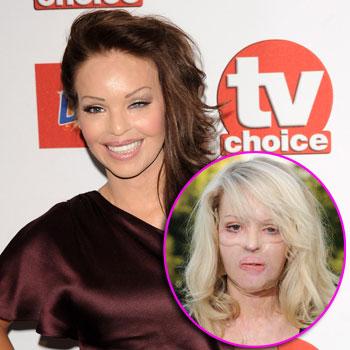 A former model who was severely disfigured in an acid attack three years ago revealed her remarkable recovery on the red carpet Tuesday.
Katie Piper, now 27, looked stunning as she appeared at the TV Choice Awards at London's Savoy Hotel, with her beautiful face and long flowing hair showing little sign of the life-changing trauma that she had endured.
Katie, who now runs a charity to aid similar victims, hit the headlines in 2008 when her ex-boyfriend plotted a horrific attack and had an accomplice throw sulphuric acid into her face.
Article continues below advertisement
Although she still remains blind in one eye, extensive skin grafts and more than 40 operations have made her injuries almost undetectable, and she shone on the red carpet in an asymmetrical one-shoulder brown satin dress while fitting in flawlessly with the celebrity guests.
Piper suffered third-degree burns, lost her eyelids, half her left ear and most of her nose. Her eyes, mouth, tongue, oesophagus, arms, hands, neck and cleavage were also badly burned and the injuries were the worst her medical team had ever seen.
The then 24-year-old underwent a ground-breaking operation in the Chelsea and Westminster Hospital, London, where surgeons removed all of the skin from her face before rebuilding it with a substitute.
The brave woman talked openly about her attack and recovery in a 2009 documentary in the UK called Katie: My Beautiful Face and the follow up series, Katie: My Beautiful Friends premiered earlier this year.
Article continues below advertisement
Piper has since launched the Katie Piper Foundation, to help other victims living with disfigurements, along with her own beauty collection of camouflage makeup to aid covering-up physical scars.
In a 2010 interview with ABCNews.com, Piper revealed how the horrific attack had changed her life - and her face - forever.
"I was quite wild, carefree, 24 years old, I thought I was invincible, lived for the moment and loved life," she said. "If I went somewhere, people I met for the first time would say, 'Oh, you're really pretty.'"
The life-altering moment came when she met Daniel Lynch after he messaged her on Facebook. Their whirlwind romance quickly turned violent when the martial arts instructor reportedly beat Katie and threatened to cut her throat during an overnight date at a hotel.
They agreed to keep it a secret, and two weeks later he persuaded her to pick up a message at an Internet cafe and had her followed by accomplice Stefan Sylvestre, who threw the skin-melting acid into her face.