Acid Attack Survivor Katie Piper: 'I Have Learned To Love My Face Again'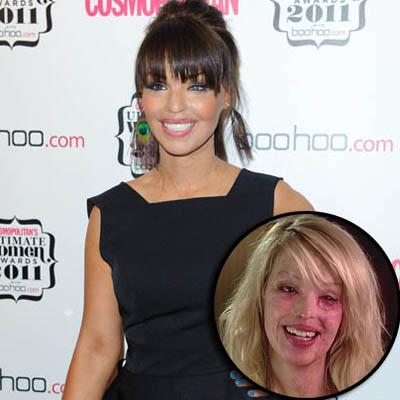 Katie Piper, a British beauty who was severely disfigured in an acid attack from an ex-boyfriend in March 2008, has released excerpts of the diary she's kept throughout her brave and remarkable recovery, which has encompassed 112 operations and extensive skin grafts.
The diary details the odyssey Piper has been through, going from a runway model to the famous victim of a cruel and unusual attack, prior to her incredible comeback — and RadarOnline.com has her story.
Article continues below advertisement
Piper wrote in May 2008, just two months after the attack, that her psychologist recommended she keep a picture diary to chart her progress through the months and years ahead.
"Maybe she hoped that by doing that, the improvements -- however small -- would spur me on," Piper wrote.
A December 2008 passage describes the various health issues Piper was having to cope with in the wake of the horrific acid onslaught, as she was down to 77 pounds because of an inability to swallow food after she ingested acid in the attack, burning her esophagus.
"My hair started to fall out through malnutrition, my periods stopped and I was fitting into children's clothes. I had to wear a special rigid plastic mask over my entire face 23 out of 24 hours a day to compress my skin and stop the developing scar tissue turning thick and lumpy," Piper wrote.
"It was hot, sore and uncomfortable, but I put up with it, knowing it might one day give me some sense of normality back.
Article continues below advertisement
"The problems with my nose were really getting me down, though. It had all but melted away in the attack, and as my reconstructed nostrils healed, the forming scar tissue kept blocking my airways, and had to be cut away."
By October 2009, Piper "wasn't going to hide any more," coming forward about her experience, releasing her photo to the public and taking part in a TV documentary about the attack.
"My appearance was the least of my worries: I'd reconciled myself with what I saw in the mirror, I'd even learned to accept that my life was no longer about socializing and dating, such was my terror of leaving my home," Piper wrote.
Piper said the reaction to the documentary "was enormous" and after receiving kind messages from those with similar issues left her "no longer embarrassed about her looks."
Article continues below advertisement
By November 2010, the recovering Piper wrote she "was hugely honored to be chosen as a finalist for... the Daily Mail Inspirational Women Awards in London.
"I took my mum along as my 'date' for the evening and she joked it made a nice change to be able to do something fun together: sipping champagne in a luxury hotel instead of helping me into my hospital gown," she wrote.
"Permanent make-up tattooed on my eyebrows and lip line made me feel so much more confident about my face, but the real achievement that night was that I was no longer scared to step out of the door -- it felt like I had my life back."
This past September, Piper stepped out with a new look, sporting dark hair. She said the change was huge psychologically, as she "no longer feels like that 'blonde girl who had acid thrown in her face.'
"I am a completely different person now, both on the outside and inside," Piper wrote. "But my journey is still not over, I have more surgery planned; my next operation will be to rebuild the rims of my nostrils and give me a septum, using cartilage from my ears. It will be a long time before I'm finally free of the surgeon's knife.
Article continues below advertisement
"But I have learned to love my face again, something I once thought impossible."
As we previously reported, Piper met her ex, Daniel Lynch, via Facebook, and a fast romance quickly turned violent when the martial arts instructor reportedly beat and threatened her during an overnight date at a hotel. She agreed to keep it a secret, but two weeks later, Lynch arranged for her to pick up a message at a London Internet cafe, where his accomplice Stefan Sylvestre threw the skin-melting acid into her face.
Piper suffered third-degree burns, lost her eyelids, half her left ear and most of her nose. Her eyes, mouth, tongue, esophagus, arms, hands, neck and cleavage were also badly burned and the injuries were the worst her medical team had ever seen. She underwent a landmark operation in the Chelsea and Westminster Hospital, London, where surgeons removed all of the skin from her face before rebuilding it with a substitute.