Who Is The LA Cop Killer? Inside Twisted Life Of Christopher Dorner & His Vow To Wage Warfare Against Police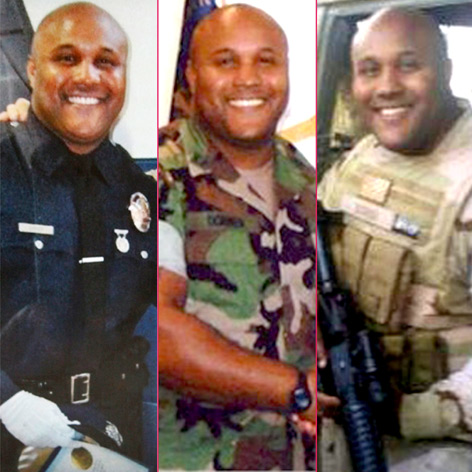 The LAPD is in the middle of its most public manhunt as an "armed and extremely dangerous" cop killer and highly trained former police officer is on the loose after murdering three people and shooting at many more.
As RadarOnline.com previously reported, Christopher Dorner's first alleged victims were Keith Lawrence, 27, and his fiancée Monica Quan, 28. The killings were believed to be a revenge attack on her father, Randy Quan, an LAPD captain who retired and became an attorney and was involved in the review process that eventually led to Dorner's dismissal from the LAPD.
Article continues below advertisement
After vowing to conduct an "unconventional and asymmetrical warfare" against police in an online manifesto, he went on to shoot three police officers on Thursday, killing one of them.
With the City of Angels on tactical alert and the mountain town of Big Bear Lakes in lockdown to search for the fugitive ex-cop, RadarOnline.com is revealing disturbing details about the skilled suspected killer who is a real-life Rambo on the run.
1. Born in 1979, Christopher Jordan Dorner grew up in the greater Southeast Los Angeles County area and attended a Christian elementary school in Norwalk, Calif. The experience clearly left a deep impression on him even as an adult, as the religious school was one of the many mentions in the 11,000 word rambling manifesto that "the most wanted man in California" posted on his Facebook page earlier this week, which threatened at least 40 individuals.
Article continues below advertisement
"My first recollection of racism was in the first grade at Norwalk Christian elementary school in Norwalk, CA. A fellow student, *** ******* if I can recall, called me a n***** on the playground," the 33-year-old African American wrote. "My response was swift and non-lethal. I struck him fast and hard with a punch an kick." He went on to reveal that although the other boy was sent to the Principal, Dorner was also "swatted" and told "as good Christians we are to turn the other cheek as Jesus did."
2. With his most recent home in Las Vegas currently being searched by police, Dorner has lived all over America during his 33 years, which he also listed on his manifesto as: Cerritos, Calif., Pico Rivera, Calif., La Palma, Calif., Thousand Oaks, Calif., Cedar City, Utah, Pensacola, Florida, Enid, Oklahoma, Yorba Linda, Calif. and Las Vegas.
3. Following his troubling early school years, Christopher attended Southern Utah University from 1997 to 2000, graduating with a bachelor's degree in political science and a minor in psychology. He also played running back for the football team, and college friends remember him as a good student who enjoyed going rabbit hunting and debating politics.
Article continues below advertisement
"My experience with Mr. Dorner was overwhelmingly positive. I never saw any indications in him that he was violent or particularly aggressive," James Usera, now an Oregon attorney, told CBS News while recalling his football teammate.
Meanwhile his coach Aaron Alford said that the talented SUU Thunderbirds RB always dreamed of being a cop, and believed in "protect and serve" - not kill. "He just wanted to be an officer... He was just like -- 'It fits who I am. I really like the military and I think the transition into being a police officer would fit," he told CBS.
4. Dorner joined the Navy in 2002 serving in Nevada, San Diego and Bahrain, where he was awarded the Iraqi Campaign Medal and National Defense Service Medal, the Global War on Terrorism Service Medal and other medals for marksmanship. During his years serving his country, he was "friendly, bright and technologically savvy," according to former navy comrade Clint Grimes, who said Christopher appeared to like military protocol and always called him sir. "I never knew him not to be smiling," he said, reported the UK's Guardian.
Article continues below advertisement
Despite his military and police experience, Dorner reportedly has not had extreme survival training that is necessary if he's on the run in the snowy mountainsides of Big Bear, where his burned out Nissan Titan was found on Thursday.
5. He fulfilled his ambition and joined the LAPD in 2005, but the experience quickly fell short of his expectations. He accused a female training partner of kicking a mentally ill homeless man during a routine stop. She denied it, witnesses appeared to back her, and Dorner was fired in 2008 for making false accusations. A tribunal upheld the decision in 2009.
6. Along with being unemployed by what he believed was an unfair decision, Dorner was divorced when his downward spiral began. Although little is known about his ex-wife, she is believed to be an undercover narcotics officer living in Long Beach. According to KABC-TV, he was last seen at his ex-wife's home two months ago, and was a regular visitor until that point and took care of her home's landscaping while there. The couple married in April 2007, but the whirlwind marriage ended a month later and they filed a joint petition for summary dissolution of marriage.
Article continues below advertisement
7. Amid the death threats, racial grievances and angry rants, Dorner had plenty to say to his favorite sports stars and celebrities in his lengthy manifesto. To the struggling New York Jets quarterback Tim Tebow, he wrote, "I really wanted to see you take charge of an offense again and the game. You are not a good QB by today's standards, but you are a great football player who knows how to lead a team and WIN. You will be 'Tebowing' when you reach your next team. I have faith in you."
Article continues below advertisement
"The package contained a DVD and a bullet-riddled keepsake coin… it's called the Challenge Coin. It's from … his former boss, LAPD Police Chief William Bratton … that coin had three bullet holes in the center," revealed Cooper. It also included a note that read "I never lied," and all the contents are currently being studied by police.
As the man hunt for Christopher Dorner continues, law enforcement officials fear that he may be heavily armed, possibly with a powerful .50 caliber rifle, which shoots five-inch long bullets that can pierce bullet proof vests and vehicles, as well as a shoulder-fired missile launcher.
They describe him as black, 6-feet tall and weighing 270 pounds, with black hair and brown eyes.