Cold Case Canine! How Buster The Wonder Dog Is Helping Solve The Black Dahlia Murder Mystery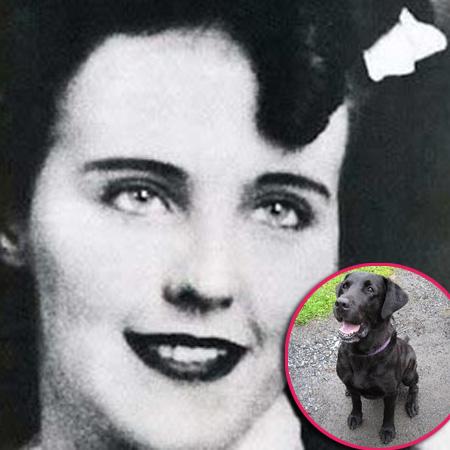 Hollywood's most notorious and infamous cold case, the Black Dahlia mystery, is close to finally being solved, thanks to the detective abilities of none other than a Black Labrador dog, and in an exclusive interview with RadarOnline.com, his owner/trainer explains exactly how the pooch's canine crime solving skills are going to sniff out the identity of the murderer.
Dubbed 'Buster The Wonder Dog,' the nine-year-old hound "is without doubt the most scientifically validated dog in the world," Paul Dostie boasts. "He is backed up with the best science in the world, in pretty much everything he does, by renowned Forensic Anthropologist, Dr. Arpad Vass."
Article continues below advertisement
Buster and Dostie, a former Detective Sergeant who lives in Mammoth Lakes in Central California, are lending their crime-solving skills to Steve Hodel, who claims he has extensive evidence that proves it was his own father, Dr. George Hodel, who committed the historic murder back in January of 1947.
"Steve has done a very thorough investigation into the case," explains Dostie, who was brought onto the investigation courtesy of the reality show, Ghost Hunters, after they had seen the success Buster had recovering the remains of missing American servicemen lost in Europe and on Tarawa during the Second World War.
"In the past, I have been able to travel around the world searching for unmarked graves through a non-profit organization called History Flight. As a result of those efforts in Belgium, the remains of seven U.S. airmen were recovered from American aircraft that were shot down during the Battle of the Bulge."
Now the duo is fully focused on solving the Black Dahlia mystery, which was the nickname given to Elizabeth Short's murder case, after the 22-year-old was found mutilated, her body sliced in half at the waist and face slashed from the corners of her mouth to her ears, creating a ghoulish "Glasgow smile" affect.
Article continues below advertisement
Steve Hodel charges that Short, possibly countless other victims, was killed at Sowden House, his father's Los Angeles home, based on what he claims is years of accumulated evidence, including alleged LAPD owned recordings of a woman being beaten and screaming in the basement.
"What Steve believes is that Elizabeth was probably assaulted and killed on the property," Dostie explains, claiming that although the doctor was never charged with the crime, he has long been the prime suspect in both the Black Dahlia slaying and other murders.
"Steve's father suddenly upped and moved to the Philippines in 1950, shortly after police discovered the corpse of a lady who had been cut in half in a park that was located about half a mile from his home," Dostie claims, further alleging that the LAPD had bugged George Hodel's home before he moved overseas, and that their recordings provide very compelling evidence of his guilt.
Meanwhile, Dostie says that when Buster, and his super powerful nose, arrived at Hodel's historic Frank Lloyd Wright designed home last week, he immediately alerted his handler to potentially damning evidence.
Article continues below advertisement
"Buster is trained on five different scents – including soft human decomposition, human bone, human cremation ashes, human blood and most importantly, human bone decomposition," Dostie tells Radar. "Once dogs learn that scent, which is chemically very different from the others, they can detect it from remains left hundreds of years ago.
"If there is human bone present, it is always decomposing. Buster is not detecting the decomposition though, he is detecting the very specific chemicals produced by it."
With his ability to detect "parts per trillion," the talented Black Lab has already alerted his handler to several findings in the home's basement, as well as in the vacant lot behind the house, leaving no doubt in Dostie's mind that someone definitely died there.
"There could of been an entirely unrelated homicide on the property or uphill behind George Hodel's home," he says. "There are other possibilities of course, but there is SOMEONE dead there without a doubt and Buster is smelling the products of their decomposed blood and bones."
The next step is to have scientists run soil samples taken from the site to determine exactly what type of chemicals the canine CSI detected, in an attempt to close, once and for all, one of the oldest unsolved murder cases in L.A. history.