Buster The Wonder Dog On The Case! Famed Canine Working The Black Dahila Murder Scene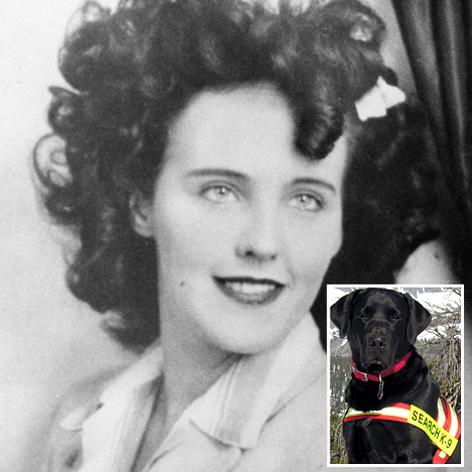 It's been almost 70-years since the gruesome Black Dahlia murder and while neither the police nor the FBI have solved it, a canine crime fighter may have unearthed some answers.
Elizabeth Short's horrific murder in which she was found mutilated with her throat slit and her body sliced in half has become L.A.'s most notorious cold case and has even become the subject of several Hollywood movies and books.
Article continues below advertisement
Now seven decades after the tragedy it's a dog who may solve one of America's most famous crime mysteries.
Buster - who has been dubbed the 'Wonder Dog' because of his ability to sniff out decades old remains - belongs to Paul Dostie, a former California police detective and their services have been employed by Steve Hodel whose own theory on who killed Short has made headlines by itself.
Hodel is convinced that his own father, Dr. George Hodel, murdered the 22-year-old after a short romance between the two turned ugly. He also believes his dad killed nearly a dozen more women in the 1940's in his Hollywood home before posing them in different areas of the city.
The late Dr. Hodel was a suspect at the time but was never arrested, with cops citing a lack of evidence.
His son has now joined forces with Dostie and Buster for the first ever forensic search at Dr. Hodel's former home where the black labrador searched for scents related to human decomposition.
The nine-year-old dog alerted several potential clues in the basement and soil samples have been taken with results expected next week.
MORE ON:
Celebrity Justice
Article continues below advertisement
Buster isn't just a regular canine. He has trained in old cemeteries in Nevada to pick up the smell of decomposing bones through soil even after decades have passed.
He has gone on a host of missions including to Japan to uncover the locations of U.S marines buried after the 1943 battle and to Belgium to search for Americans killed in the Battle of the Bulge.
Just last month he was flown to Florida to search for remains in a 200-year-old pirate grave as well as an 1860 ship carrying 249 African slaves.
He's even continuing his important work on three legs, having lost one of his limbs to cancer late last year.
Depending on what evidence comes back from the samples, Buster could have helped to crack the famous crime.