The JonBenet Ramsey Murder Mystery – Revisiting The Crime Scene Photos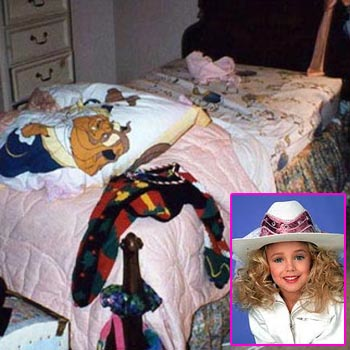 It's a case that remains open to this day. It's also a case that continues to fascinate the nation. And now, in wake of the bombshell news that a grand jury voted to indict JonBenet Ramsey's parents in 1999 of child abuse resulting in death, but the prosecutor never signed the indictment, RadarOnline.com is taking a look back at the crime scene photos taken by police on that tragic - and mysterious - day on Christmas of 1996.
Article continues below advertisement
In the series of photos taken by authorities, we see the Ramsey Home in Boulder, Colorado decorated for the holidays, JonBenet's bedroom, a clump of hair, and an open window in the basement where the body of the 6-year-old beauty queen would eventually be found.
As RadarOnline.com has previously reported, JonBenet's mother, Patsy, made a frantic 911 call to police at 5:52 a.m. on Dec. 26, 1996, saying her daughter was missing and that she'd found a ransom note on the staircase leading down to the kitchen, demanding $118,000 for her daughter's return. There was never any follow-up from an assumed kidnapper.
For more than seven precious hours after authorities first responded to the family's 911 call, police inexplicably did not search the house, believing she had been kidnapped, and not killed.
The little girl's body was found in the basement of the family home nearly eight hours after she was reported missing. She had been struck on the head and strangled.
And now, 17 years after her shocking death, we learn the grand jury voted to indict JonBenet's parents – a Class II felony punishable by up to 48 years in prison.
Article continues below advertisement
JonBenet's parents, John and Patsy, always maintained they were not responsible for their daughter's death.
Then-Boulder District Attorney Alex Hunter told reporters in 1996 that he did not believe his office had enough evidence to file any charges, though the Ramsey family remained prime suspects for years before eventually being exonerated in 2008, thanks to newly discovered DNA evidence. (Patsy Ramsey would tragically die of ovarian cancer two years before being cleared.)
In 2010, investigators reopened the case and launched a fresh round of interviews with witnesses that could provide more insight into the murder, according to ABC News, but no new breaks in the case came from those interviews.
The DNA evidence still points to an "unexplained third party" that serves as a vague lead for authorities still pursuing the case, TIME magazine reported.
According to reports, Boulder police have tested more than 150 DNA samples and investigated nearly the same amount of potential suspects in their ongoing investigation, but none have ever been linked to the crime.
Article continues below advertisement