Exclusive
Who Killed Chandra Levy? Search For REAL Killer Could Resume Soon As New Information Surfaces On Key Witness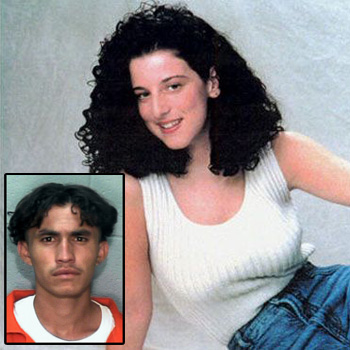 The recent revelation that a judge is holding secret hearings centering on new information in the Chandra Levy murder case means that the conviction of Ingmar Guandique could be overturned and the search for the REAL killer may resume — 12 years after the murder.
Criminal defense lawyer Dana Cole says it is difficult to believe that Ingmar Guandique was responsible for Levy's death after he was convicted for the crime largely by the testimony of a cellmate. There was no DNA or forensic evidence against Guandique.
Article continues below advertisement
Now new evidence has surfaced that apparently undermines the credibility of the inmate whose testimony was so crucial in gaining a conviction against the immigrant from El Salvador, and CBS This Morning reports that new information may toss the conviction. The judge has sealed all court records and issued a gag order.
Guandique is serving a 60-year murder sentence based on evidence that his former cellmate, Armando Morales, claimed he confessed to killing Levy. Two women also gave sworn testimony during the trial saying that Guandique had attacked them around the same time Levy was murdered.
If the new information destroys Morales' credibility not only could the conviction be thrown out but it would also trigger a new hunt for Levy's killer.
"It can happen that Guandique's conviction of the murder of Levy could be thrown out and the killer could still be out there," Cole told RadarOnline.com.
"The fact that secret hearings have been called is a strong indication that some new evidence could have been found that could clear his name.
Article continues below advertisement
"New information could be that the jailhouse snitch has been discovered as unreliable or a liar. There was once a famous Los Angeles jailhouse informant, Leslie White who fabricated confessions and attributed them to cellmates. All those cases were overturned.
"So, to make a decision on a case where you're using a jailhouse snitch's testimony is an incredibly dangerous thing to do.
"Without DNA evidence to back up a confession or the testimony from the two women who Guandique did attack, you can't automatically say he's guilty for Levy's murder.
MORE ON:
Celebrity Justice
"If Guandique's conviction is tossed, one of two things can happen. He will either be retried or he won't be, but the case can be re-opened," Cole revealed.
Lawyers on both sides of the high-profile case have met several times since December and will meet again in February. Chandra's father Robert Levy told FoxNews.com that the topic of the meetings between federal prosecutors and lawyers for the convicted killer has been kept so tightly under wraps that even he doesn't know what is happening.
Article continues below advertisement
"It's all secret. No one is allowed in there. It's about some witness," said Levy.
Chandra, a congressional intern from Modesto, Calif., went missing in May 2001 and the case captured the attention of the country due to rumors of a romantic connection with then-married U.S. Representative Gary Condit.
It took a year before the 24-year-old's skeletal remains were found in Maryland's Rock Creek Park, and it was another seven years before her killer — a convicted rapist, who had previously assaulted two other women in the park — was arrested.