Hollywood Movie 'Halloween' Inspired Me To Kill My Mother And Sister, Says Teen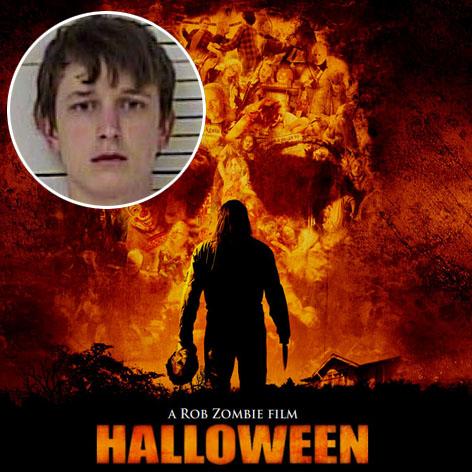 A teenager suspected of brutally murdered his mother and sister claims the 2007 horror flick Halloween inspired the grisly slaying, according to his shocking confession released by a Texas judge.
"While watching it I was amazed at how at ease the boy was during the murders and how little remorse he had afterword sic. I was thinking to myself it would be the same for me when I kill someone," 17-year-old Jake Evans wrote in the confession that was made public on Thursday by Parker County Judge Graham Quisenberry, reported the Huffington Post.
Article continues below advertisement
The high schooler turned real life horror character allegedly murdered his mother, Jamie Evans, 48, and his 15-year-old sister, Mallory, at their opulent home in Aledo, Texas, in October 2012. Just hours after his arrest, police say that he wrote a four-page confession revealing how he watched the Rob Zombie Halloween remake three times a week.
A prequel of John Carpenter's 1978 slasher movie, Halloween tells the story of the early years of fictional serial killer Michael Myers, who as a 10-year-old, butchers several people, including his older sister, his sister's boyfriend and his mother's boyfriend.
"After I watched the movie I put it back in the case and threw it in the trashcan so that people wouldn't think that it influenced me in any way," Evans wrote, according to police.
On the day of the murders, the troubled teen watched his favorite movie, played golf, and then contemplated murdering his family. "My plan was to kill my sister and my mom at my house and then go over to my grandparents and kill my oldest sister, Emily, and my two grandparents. Then I was going to wait until morning and kill my other sister, Audrey, because she was visiting from college," the confession reads.
Article continues below advertisement
According to his confession, he initially planned to use a folding knife so they would feel excruciating pain, but then decided to shoot his victims with a .22 revolver he had stolen from his grandfather so they wouldn't "feel anything."
It was 11.30 pm by the time Jamie went through with his deadly plan and enter his sister's bedroom. "I shot her in the back and then in the head. I ran down to the study and shot my mom three times," he revealed.
Afterward, he began to empty the gun when he heard noises and realized his sister was not dead; he yelled out he was sorry then shot her again. Police said he then went back to his mother's body and fired another shot into her head.
"Very shocked and scared, I placed the gun on the kitchen counter and walked into the living room to dial 911," said Evans.
He has been charged with one count of capital murder and two counts of murder. Judge Quisenberry approved a request for $750,000 bond but the boy's father, who was out of town on business at the time of the murders, said he would not bail out his son.