Exclusive
Grammy Awards' Security Increased As Suspected Killer Christopher Dorner Remains At Large & Obsessed With Celebrities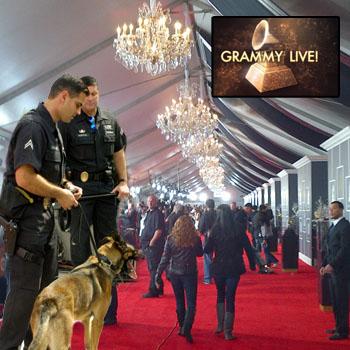 Security for the Grammys on Sunday has been increased as an intensive manhunt continues for suspected killer Christopher Dorner , an ex Los Angeles Police Department officer, RadarOnline.com is reporting exclusively.
Dorner has expressed a strong fascination with many celebrities in a rambling manifesto he posted on Facebook and organizers of the music event are taking no chances.
"An extra security presence is being organized for this year's Grammys," a source told RadarOnline.com.
Article continues below advertisement
"There will be uniformed and plain-clothed police working in and around the Staples Center because Christopher Dorner is still out there.
"Police are being extra vigilant, especially as Dorner's manifesto mentioned several celebrity names, including some possible guests at this year's Grammys.
"This is just a precaution and a security measure. But you can never be too careful when an unpredictable killer is at large."
As RadarOnline.com previously reported, Dorner, who is suspected of killing three people including one police officer, mailed a package to Anderson Cooper, the CNN anchor confirmed Thursday.
Cooper said on his program, "I learned today that Dorner sent me a package to my office here at CNN in New York.
"The package arrived on February 1st. As you might imagine, I receive a lot of strange packages and letters and we have a system in place for dealing with them. I did not personally see this package or know about it until today.
"The package contained a DVD and a bullet-riddled keepsake coin … it's called the Challenge Coin. It's from … his former boss, LAPD Police Chief William Bratton … that coin had three bullet holes in the center, as you can see. And one partial hole on its edge, on the upper right-hand part of the — of the coin.
Cooper said the package's contents also included a note that read "I never lied," and a DVD.