Deputy Killed By Fugitive Chris Dorner In Shootout, He Remains Surrounded By Authorities In Cabin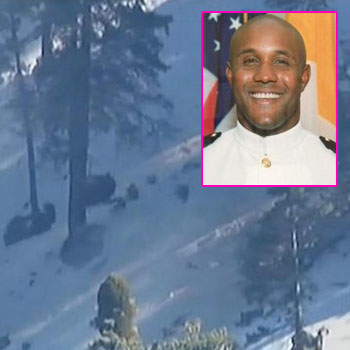 UPDATE 4:32 p.m. PT - The cabin Dorner is believed to have been hiding out in is now on fire and engulfed in flames. There are also reports of a single gunshot being fired.
Former LAPD officer-turned-cop killer Christopher Dorner was involved in an explosive shootout Tuesday afternoon and RadarOnline.com has learned one of the San Bernardino Sheriff's Department deputy's that was airlifted to a Loma Linda hospital has now died from his injuries.
Article continues below advertisement
"Unfortunately one of our deputy's passed away due to his injuries," the Sheriff said in a press conference.
As RadarOnline.com previously reported , Dorner, 33, broke into a cabin in the California mountains, tied up two women, took their car and was then involved in a shootout, first with the Los Angeles Fish and Wildlife agency.
Eyewitness Mike Cahoon of Santa Monica, Calif. exclusively told RadarOnline.com that at approximately 1:30 p.m. PT he saw the first cop car leave Big Bear Village to chase Dorner.
"There were floods of police cars flying down the road after what looked like a silver Dodge and soon after I saw a helicopter fly overhead," he said.
"There are armored vehicles in the area already. We're not allowed to leave the hotel or the mountain."
Dorner remains holed up in another cabin in the California mountains and has been surrounded by authorities for nearly two hours.
In a press conference held while the dramatic attempt to capture Dorner unfolded, LAPD Commander Andrew Smith delivered this message to the fugitive: "Enough is enough. It's time to turn yourself in…it's time to stop the bloodshed."
To hear audio of the shootout — in which hundreds of rounds were fired — listen below.
Stay with RadarOnline.com as the story develops…