Fugitive Cop Killer Christopher Dorner Involved In Insane Shootout With Police, Two Officers Down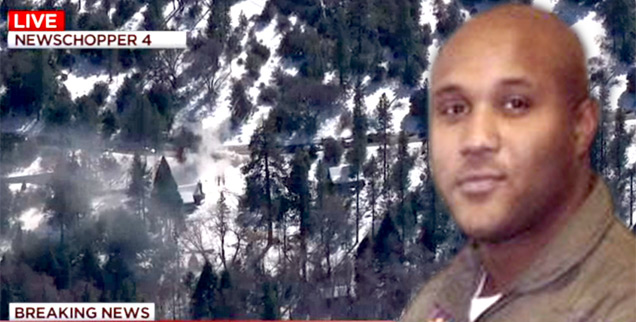 UPDATE 3:48 p.m. PT - The Los Angeles Times reports a San Bernardino Sheriff's Department officer has died of injuries sustained during the shoot out with Dorner.
UPDATE 3:15 p.m. PT - A report of a stolen vehicle and sighting of a man who looked very much like Christopher Dorner is how law enforcement authorities closed in on the man they believe to be the former Los Angeles Police Department officer Tuesday. In a press conference held while the dramatic attempt to capture Dorner unfolded, LAPD Commander Andrew Smith delivered this message to the fugitive: "Enough is enough. It's time to turn yourself in...it's time to stop the bloodshed. Smith stressed that the San Bernardino Sheriff's Department is leading the operation to capture Dorner, who engaged in an intense firefight with authorities. (You can listen to the audio below)
Article continues below advertisement
UPDATE 2:45 p.m. PT - Los Angeles Fish and Wildlife was the first agency to engage in gunfire with Christopher Dorner. However, the two officers injured and airlifted to a hospital in Loma Linda, Calif. were not from LA Fish and Wildlife. Hundreds of rounds were fired in the shootout between Dorner and authorities, according to multiple reports. The owner of the cabin where Dorner is holed up reportedly turned on the TV to watch Walking Dead, and saw the cabin in the Dorner shoot out.
The former LAPD officer-turned cop-killer became engaged in a violent gun battle with police Tuesday from inside a cabin in the California mountains, near where his Nissan pickup truck was found abandoned last Thursday.
Christopher Dorner's insane shootout started after he burglarized a home, tied up a couple and stole their car, according to the Los Angeles Times.
Dorner is holding a couple hostage, CNN reported, attributing the information to the Times. But a Los Angeles police department spokesperson said he could not confirm that Dorner was holding hostages.
Article continues below advertisement
The ex cop engaged in a firefight with authorities where hundreds of rounds were exchanged, according to multiple reports.
The intense exchange of gunfire was captured on audio and you can listen to it here.
As conflicting reports flooded in from the scene of the standoff, it was reported that two San Bernardino County Sheriffe's deputies were down at the Seven Oaks Cabin area of the popular ski vacation area. According to the Times: "One deputy was hit as Dorner fired out of the cabin and a second was injured when Dorner exited the back of the cabin, deployed a smoke bomb and opened fire again, in an apparent attempt to flee."
Dorner was chased back into the cabin.
Dorner, 33, has been California's most wanted man since he murdered Keith Lawrence, 27, and his fiancee Monica Quan, 28, on February 3 and then declared "unconventional and asymmetrical warfare" against the police in an 11,000 word manifesto. In the early morning hours of February 7, he went on a shooting rampage against the LAPD that left three police officers injured and one dead.
Article continues below advertisement
In his manifesto, that he posted on Facebook, Dorner claimed he was set up to fail, and fired from the police force, after filing a report that another officer had kicked a mentally ill suspect.
The man hunt for the fugitive ex-cop had spread east from Los Angeles to Big Bear and south down to San Diego and Mexico, as speculation mounted that he may have crossed over the U.S. border.
The women that Dorner reportedly tied up were not hurt and one is thought to have escaped and alerted the authorities, while their abductor, took off in a stolen white SUV, heading south on Highway 38 into a forest and canyon area.
On Monday, Riverside County District Attorney Paul Zellerbach filed charges against Dorner — one count of first-degree murder in the death of Riverside police officer Michael Crain, and three counts of attempted murder.
Story developing, stay with RadarOnline.com for updates.