Bad Blood Boils In Beverly Hills, As Joyce Giraud RIPS Brandi Glanville As a 'Fake'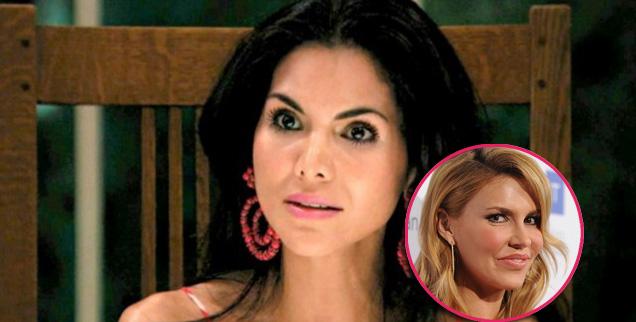 The feud between Joyce Giraud and Brandi Glanville continued to boil on Monday's edition of Watch What Happens Live, when Joyce called her castmate a "fake" in response to a needling nickname she called her by on the episode of the Real Housewives Of Beverly Hills that proceeded it.
Tensions boiled after Monday's show between Joyce and Brandi -- there was little love lost there in the first place -- when the latter rankled the former Miss Puerto Rico by disparagingly calling her, on camera, "Hoyce-ita," which she had previously apologized for.
Article continues below advertisement
The vitriol began flowing when a caller asked Joyce if she thought Brandi's BFF, the sensible Yolanda Foster, had enabled Brandy's latest spree of bad behavior by constantly rushing to her defense.
The stunning Joyce responded, "No, I think watching this episode, I got mad at myself for being so lenient on her," nothing that Brandi called her by the offensive nickname after her mea culpa.
"So guess what?' Joyce said. "Her apology was fake, like she is. I think I should've known better and trusted my gut instinct. I still gave her the benefit of the doubt, I can't blame it on Yolanda or Brandi.
MORE ON:
Watch What Happens Live
"I do think that they needed to stop giving excuses for her … but I can't blame it on them. Brandi's a grown woman, I'm a grown woman -- we're all too old to blame it on other people."
Watch the video on RadarOnline.com
On Monday's show, Andy Cohen cleverly booked Joyce alongside another person who has a history with Brandi, none of it good -- Scheana Marie, Lisa Vanderpump's SUR waitress who admittedly slept with Brandi's ex-husband Eddie Cibrian when he was still married to Brandi.
In all fairness, Joyce and Scheana Marie did have kind words for Brandi when prompted by host Cohen to list three positive things about their arch-rival.
"She's a gorgeous person, gorgeous body and I hope she's a great mom," Joyce said, while Scheana Marie said, "She has great hair all the time -- her hair is always good -- she's got long amazing legs and she speaks her mind."