'Tipsy' Brandi Glanville Admits To Trying Cocaine & Calls Joyce Giraud A 'Big Fat Pig' – WATCH!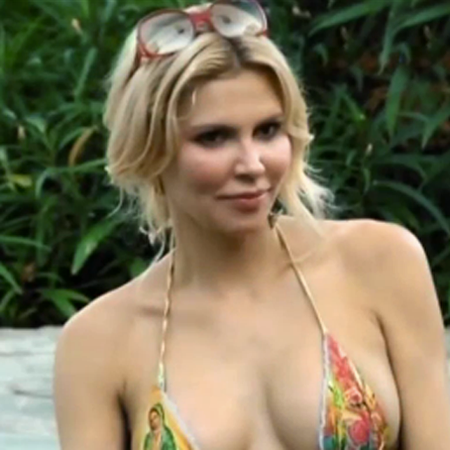 Brandi Glanville got a bit too relaxed on their mini vacation to Palm Springs, first, admitting to using cocaine and then picking a massive fight with newbie Joyce Giraud on Monday night's episode of The Real Housewives Of Beverly Hills.
Heading to the girls' bonding trip, Brandi shocked Yolanda Foster, dropping a bombshell about her past drug use.
"The first time I was ever in Palm Springs was the first time I ever did the Master Cleanse," Yolanda shared in the limo. Brandi countered her story and bluntly revealed: "And it was the first time I did cocaine."
Article continues below advertisement
A bewildered Yolanda gasped.
Brandi laughed: "Oh, no. That was San Francisco."
Later, chatting over dinner, Brandi was imbibed after having too many glasses of wine and couldn't keep Joyce's name straight – constantly referring to her as "Jacqueline."
"I won't acknowledge you if you call me Jacqueline," Joyce stated, before announcing she landed a major movie role.
The ladies, minus Kyle, ignore the announcement.
"I'm getting drunkish… Can you fix my weave?" Brandi slurred, before the drama really kicked in.
"She doesn't look like a Joyce," Brandi exclaimed. "Joyce is a big fat pig!"
While Brandi clearly didn't intend for the comment to be taken as an attack against Joyce herself, Kyle couldn't stop herself from jumping to her defense.
"It doesn't sound like a big fat pig," Kyle said. "It sounds like a beautiful girl who is drop-dead gorgeous, whose name means joy and happiness."
Article continues below advertisement
Joyce admitted she was trying to "not lose her temper" but called Brandi a bully.
Brandi attempted to clear up her comment by saying she doesn't even like her own name. However, when Joyce suggested she change it, things got even uglier.
"Oh, go f**k yourself," Brandi mumbled.
Then, Yolanda and Kyle Richards went head-to-head, referencing old issues, in which Kyle and her sister Kim told Lisa that they believed Yolanda was a liar.
"To me, respect and friendship is earned over time," Yolanda told Kyle.
"I didn't invent that story out of thin air. It's frustrating when you know you're telling the truth," Kyle ranted to the cameras.
The two women continue to bicker back and forth, when Joyce tried to intervene, much to Yolanda's dismay.
"You sweetheart, don't get involved," Yolanda scolded Joyce, adding that she wasn't there, so she shouldn't get involved.
Article continues below advertisement
Brandi then teamed up against Kyle.
"You seem sweet and then become this crazy a--hole," she slurred between drinks.
"Excuse me?" Kyle yelled.
The drama continued during the girls' bonding trip.
When the group relaxed by the pool, Brandi revealed that she and Carlton Gebbia made out, much to Carlton's chagrin.
"It was a friendship kiss," Brandi told the ladies and locked lips with her co-star once again in the pool.
"See it was nothing," she said.
Then, when questioned about her pentagram tattoo, Carlton finally revealed she is a practicing Wiccan, eliciting eye rolls from some of the women.
"I generally get defensive, but if someone genuinely wants to find out, once I get to know them, I don't mind unveiling it in my own way," Carlton told the cameras.
Joyce wasn't buying it.
"That is so silly to me. Come on, give me a break," she said about the religion.
Article continues below advertisement
Then, the ladies called out Joyce for not getting into the pool.
After Yolanda jumped into the pool and swam around, Joyce frantically revealed why she wouldn't go in the pool.
"I can't swim!" she exclaimed.
In response, Brandi blurted: "You're a black person."
Trying to backtrack, Brandi told the cameras: "It was a joke and my black friends would have laughed like crazy because they don't go into the pool because they will get their weave will get f---ed up."
Angry, Joyce stormed off, ignoring Brandi's nasty drunken remarks.
"What's your problem? I am black. Puerto Ricans are black, Indian and Spanish. I'm a mix of three cultures, and I'm proud of to represent all three," Joyce told the cameras.
The drama in Palm Springs continues next Monday at 8/7c on Bravo.