Brandi Glanville On Makeout Partner Carlton Gebbia: 'She's Hot, I Like Her'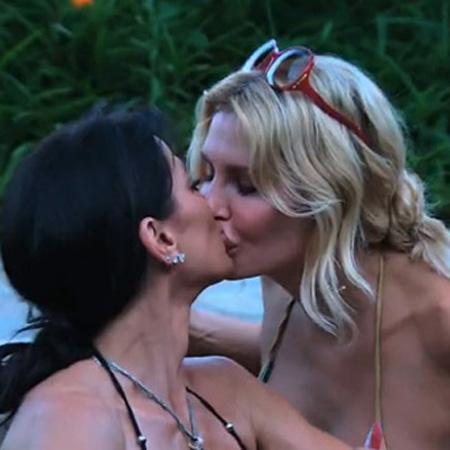 Brandi Glanville dropped a major bombshell on Monday night's episode of The Real Housewives Of Beverly Hills.
Listen! 'RHOP' star Wendy Osefo breaks down the "most intense fight in the show's history" in under 2 minutes.
While shopping for bikinis for the cast's upcoming trip to Palm Springs, Brandi revealed to Lisa Vanderpump that she swapped spit with her stunning new castmate Carlton Gebbia.
"I made out with Carlton yesterday," Brandi dished about their sleepover.
Article continues below advertisement
"What do you mean?" Lisa asked.
"We made out," Brandi repeated, giggling like a school girl. "Carlton is a bad-ass -- she's hot, I like her."
"It's very confusing," said Lisa, joking that her co-stars are "either at each other's throats or down each other's throats."
"It was all innocent fun," the free-spirited star said as she strutted around in a tiny bikini.
"Not in my world! I'm locking my doors tonight," a flustered Lisa said.
Meanwhile, Kyle Richards and her husband, Mauricio Umansky, expressed their anger about their co-stars – who can't seem to quit talking about the alleged cheating rumors.
"Lisa's hurt my feelings now," she confided to her husband, clearly referring to Lisa's comments about the rumors.
"She knows what we've been going through with all the lies and the tabloids," she vented. "Then she makes a joke twice, one of the jokes in front of Portia. What was the point of doing that?"
Article continues below advertisement
Because Lisa has said numerous times that she doesn't believe the gossip, Kim couldn't understand why she kept bringing it up.
"I think this is one of those situations where Lisa and Brandi Glanville have something to talk about against Kyle," Umansky said. "They are having issues with Kyle, and they're going to do their best to exploit that.
"My character is being attacked. If they don't believe it, then why do they keep bringing it up?"
Across town, Lisa and her husband Ken discussed the rumors.
"I don't think for a minute it's true," Ken told Lisa.
"But nobody knows definitively," Lisa said, much to Ken's dismay.
"Well, I don't believe it. I don't think he's done it," he retorted, adding that instead of gossiping, "You should always look out for your friends."
Later, Lisa had her daughter Pandora and her husband Jason over for dinner. Jason explained that he was interviewing for a job in New York.
Article continues below advertisement
He added that if he lands the job, they'd have to move.
"If I have anything to do with it, they won't be going anywhere soon," Lisa told the cameras.
Lisa downplayed the opportunities in New York, and tried to convince them not to move, much to Pandora and Jason's dismay.
Elsewhere Monday, Yolanda Foster's mother and brother visited from Holland, just in time to see Yolanda's husband, David Foster, get his star on the Hollywood Walk of Fame.
Lisa, Brandi and Carlton joined a large crowd, which also included iconic singer Stevie Wonder.
"This is a big acknowledgment," Yolanda gushed. "I'm so proud of him."
Later, Kim , Kyle, and their sister, Kathy, attended the high school graduation of Kim's daughter, Kimberly.
"It's here. Kimberly is graduating. This is by far one of the proudest days of my life," Kim told the cameras.
Watch the video on RadarOnline.com
During the ceremony, Kim began to cry, recalling all her memories with her daughter.
Kyle later hinted at possible problems to come for her sister.
"Picturing her with an empty nest has me worried about her," Kyle admitted.
The former child star, who was in rehab in 2012 for alcohol addiction, put on a brave face and through tears told the cameras, "I'm ready for this moment.
"Growing up as a child actress, there was much I got to do and yet so much that I missed out on. Therefore, when I had kids, I made it a point to make sure that they could do anything and everything that they dreamed of," she added.