'Sometimes With These Ladies, Your ONLY Friend Is A Drink': Housewife Brandi Glanville Slams Concerned Costars, Blames Them For Boozing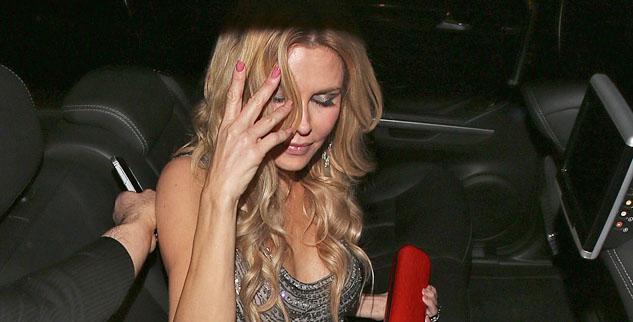 Article continues below advertisement
"There are all these articles now, like does Brandi need rehab? I've never claimed to be sober. Never. Not in my life," Glanville said during her Podcast One show.
"I do celebrate on my birthdays, god forbid. I went out with a bunch of my friends. I was tripping while we were sipping. I had a little too much to drink, we went dancing and then we went home."
During her rant, Glanville hinted that her RHOBH co-stars were to blame for some of her drinking!
"There are a couple ladies on the show that are going around trying to discredit me," she said, noting that the gals' trip to Palm Springs, which airs Monday, made her want to drink more.
"We're on vacation. I'm having some drinks and sometimes with these ladies, your only friend in the room is a drink."
The outspoken star added that she never drinks around her two children with her ex-husband Eddie Cibrian.
Article continues below advertisement
Glanville added, "I take care of a household and pay all the bills. I don't have help, and I take care of these two little kids. I don't know how I'd get anything done if I was just drunk all the time.
"I do enjoy drinking. Sometimes I overindulge, but I don't drink when I have my kids," she said.
Living under the microscope of being a reality television star, Glanville tried to explain her few drunken nights this year, which included her losing part of her dress during another boozy night out in Hollywood.
"I have people following me all day… and all they want is a crotch shot or me falling down drunk. Go f--- yourself! It makes me so angry!" she vented.
As RadarOnline.com previously reported, Glanville refused to participate in a that was spearheaded by her costar Kim Richards.
The Hottest Stars From Reality TV
Richards, 49, who herself has struggled with alcoholism, has grown increasingly concerned for the single mom.
"Kim believes that Brandi is an alcoholic and needs to get help," the production insider revealed to RadarOnline.com.
"Producers of The Real Housewives of Beverly Hills wanted to stage an intervention for Brandi that would have aired on the fourth series of the Bravo show."
But after Glanvill found out about the planned intervention, "she shot it down… immediately!"
Said the source: "Brandi didn't want to be a part of it and insisted she doesn't have a drinking problem … she didn't want her kids to see it (either)."