RHOBH Newbie Joyce Giraud Reveals Shocking Bullying Claims: 'I Grew Up Feeling Ugly'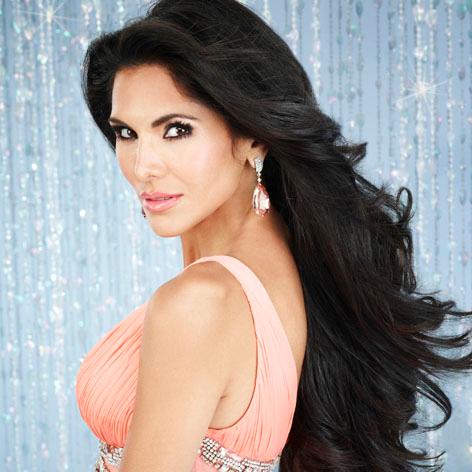 Real Housewives of Beverly Hills star Joyce Giraud may have a charmed life now, but claims she was bullied as a young girl for her looks.
Because of the negative comments she faced, the former beauty queen says she cringes every time she hears her new Housewives tagline: "In Beverly Hills, they say you can never be too young, too thin, or too rich."
Giraud opened up to Entertainment Weekly about her unhappiness with the tagline, and how it stems from being bullied for the way she looked when she was younger.
Article continues below advertisement
"I was bullied as a young girl for these things you're putting in my tagline: I grew up feeling ugly, feeling bad about myself for being to skinny," she said. "I'm already upset at my tagline because it's not me and I didn't pick it.
"I'm really pissed off that they would pick a tagline that doesn't describe me."
Giraud admits Bravo producers got her to say the line while filming -- then, without her consent, they edited the line to be used as her official intro to the show.
"They give you all these taglines and you take them and then they pick. Here I am as a newbie, playing ball and taping what you're telling me to tape. But I'm asking you to not pick this and you pick it."
Giraud admits it is difficult to adjust to producers editing things as they see fit, and is nervous about how she'll be portrayed.
"I think it was a great experience," she said. "I can't tell you if I got out of it what I was looking to get out of it until after the show, because you never know how they're going to portray you."
Article continues below advertisement
Although the two-time Miss Puerto Rico beauty queen came in with an open mind, she was surprised by how many of the cast members -- such as Kyle Richards, Lisa Vanderpump and Brandi Glanville -- treated one another.
"If you see these ladies, it is a gorgeous group of girls. They're all stunning. Once I got to know some of them, then I'm like, 'How can such a beautiful person be so ugly on the inside?' How can you be so manipulative and say such mean things about your co-workers?
"I understand the dynamic of the show, but it's just mean and it's rude and it's unnecessary. Coming from a woman to another woman, it's just ugly. It's a sad thing because I'm a very girl's girl and I think everyone is beautiful. Everybody has something amazing to them."
The Real Housewives of Beverly Hills airs Monday at 8/7c on Bravo.