'Drunk' Brandi Glanville 'Has A Problem' And Needs Rehab, 'RHOBH' Castmates Charge During Reunion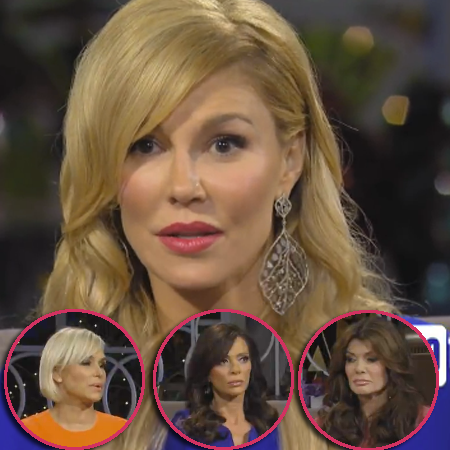 The battle raged on between ladies on the second part of The Real Housewives of Beverly Hills reunion, as Brandi Glanville had to defend her crazy party behavior to her concerned co-stars.
After the single mom, 41, revealed she "battled depression" over the last year because of personal issues with her family and friends, her co-stars called her out for her destructive behavior.
"It all became a bit too much really. I wanted to try and help her and take control, but she pushed me away," her former BFF Lisa Vanderpump said.
Article continues below advertisement
Then, Joyce Giraud chimed in about Glanville's behavior, even accusing the New York Times best-selling author of calling the paparazzi every time she went out.
"I have never in my life called paparazzi, and I would not do it," said Glanville, who allegedly nixed an on-air intervention from her co-stars.
But Giraud, 38, didn't believe Glanville.
"Ha!" she said, almost laughing at Glanville's remark. "I think she has a problem."
Article continues below advertisement
Then, Kim Richards called out Vanderpump for exploiting her public battle with addiction.
The exchange started innocently enough, when host Andy Cohen asked the British beauty, "Why do you think Kim feels like you don't take her seriously?"
"Maybe I just don't get her," Vandperump confessed.
Richards – who is now sober – identified her problems with Vanderpump, admitting she doesn't believe that her co-star's concern about her whereabouts, while she was battling her addictions, comes from a place of genuine friendship.
"Yes, I missed a whole lot, Lisa, and it wasn't just your party. I missed a huge chunk of my f***ing life and my children's lives, and I'm sorry if I missed a party or two," Richards said.
Vanderpump jumped on the defense, insisting she is "pissed off" by the accusations and "never made a big deal" about Richards' absence from various events.
But Richards, 49, wasn't ready to give in.
"I've never actually seen you be there for any one of us," Richards said. "You're full of s*** right now. And you're a liar!"
Article continues below advertisement
Later, Carlton Gebbia spoke about her Wiccan faith, admitted she was offended her castmate Kyle Richards constantly asked questions about her religion.
"The comments she was making weren't coming from a genuine place of interest. It was a consistent build up of little things," Gebbia said.
Richards, 45, fired back: "I was trying to get to know you… What should I do, ask you about your sex toys?!"
"I'm proud of my religion," Gebbia said, to which Richards responded, "You don't seem like it!"
Glanville chimed in that all her co-stars ever talk about is Gebbia's religion – and they need to let it go.
"All anyone ever talks about with Carlton is like, 'She's a witch.' It's like, we get it," Glanville fumed.
Then, Richards – who had mistaken Gebbia's pentagram tattoo for the Star of David – took another dig at Gebbia's religion.
"I know what a Pentagram looks like because I've seen it on Richard Ramirez 'Night Stalker,'" she said, referring to the mass murderer and serial rapist who terrorized the Southern California area during the 1980s.
Astounded, Gebbia shakes her head in disbelief, as Richards continued.
"I certainly would not think asking, 'Is that a Star of David?' is offensive when I'm Jewish," Richards said.
"This is one more dig for me to react… I'm not offended by the Star of David. I was offended by you!" Gebbia added. "You're a bigot!"
"I think Carlton is overly sensitive about her religion," Yolanda Foster said.