Carlton Gebbia Defends Lisa Vanderpump, Tells 'RHOBH' Castmates To 'Take The Sticks Out Of Your Arses'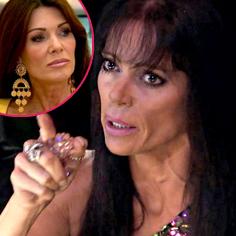 Article continues below advertisement
Vying for "Team Vanderpump," Gebbia made it clear that she isn't one for catty, backstabbing behavior.
"I think Lisa had to deal with a lot of envy from people from being the first Housewife on Dancing With the Stars," she wrote.
"Pretending to faint -- I seriously doubt that. It wasn't cool watching the reenactment with Kyle and Kim. It's pretty disrespectful, especially from a so-called friend! Again, who needs enemies? I certainly know that Kyle wouldn't have thought that was harmless humor and blown it off. God knows she'd be demanding an apology riiiight sic about now."
Faked Scenes, Lies & Payoffs – The Ultimate Guide To Reality TV Shows
During last week's episode, Vanderpump's witty, often self-deprecating humor, was brought into question by her co-stars – but Gebbia insists they need to lighten up.
"Listen, Lisa's sense of humor is wickedly British to the core. Unfortunately some women in this group take offense to it because they don't understand it. Maybe they're looking for a reason not to. Possibly?
"From my own personal experience with Lisa whenever we are around one another we are constantly taking the piss out of each other -- without being dramatically insulted or offended. That's because it doesn't come from a bad place. So lighten up and take the sticks out your arses ladies. Maybe my broomstick got lodged up one of their derrieres," Gebbia added.