50 Shades Of Housewives! Carlton Gebbia Creates A Personal Sex Dungeon As A Surprise For Her Husband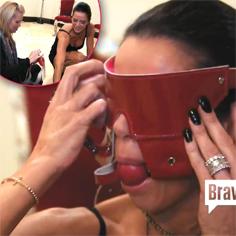 Not only is Carlton Grebbia a witch who likes to make out with her Real Housewives of Beverly Hills co-star Brandi Glanville, but she also sounds like she is a sex fiend at home with her husband.
In a preview for the upcoming episode of RHOBH, Gebbia started to put a secret plan into action: to create a sex dungeon or what she calls a "burlesque" room.
Listen! 'RHOP' star Wendy Osefo breaks down the "most intense fight in the show's history" in under 2 minutes.
Article continues below advertisement
"I have ideas," Gebbia said to her nanny, Elizy, in the video. "I want to make it kind of like the 20s, kind of burlesque style."
She then explained to the cameras that this is going to be a room where she can spend private time with her husband.
"I want a room in the house where I can lock the door and completely have no inhibitions whatsoever," Gebbia said. "So this burlesque room is going to be mommy and daddy's playroom."
She continued to chat about how she wants to have one wall that is completely mirrored in the room and one wall for staging.
"It's not like I'm going to have an audience," she said. "An audience of one."
Gebbia then went off to the cameras about her relationship with Elizy.
"Not only is Elizy my son's nanny, she's also one of my best friends and she's incredibly playful and so inappropriate," she said. "I love it."
Article continues below advertisement
The women then spent some time playing with underwear.
"I want to see you in this," Elizy said to Gebbia as she put away a red bra.
"Elizabth is like an angel but her halo is really, really far down," Gebbia added to the cameras. "She's not as innocent as she pretends."
The video wrapped up with the women playing with sex toys and Gebbia talking about how the whole room is going to be a surprise for her husband.
"David does not know yet what he's in for," she said. "He knows that I have something brewing downstairs so to speak. But I think he'll be a very happy boy."