'Heinous' Housewife! RHOBH's Carlton Gebbia Slams Kyle Richards For 'Devastating' Anti-Semite Accusation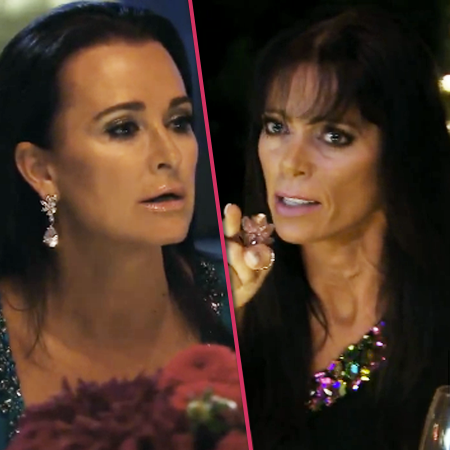 Carlton Gebbia is refusing to be the victim in Kyle Richards' witch hunt.
The pair's feud exploded on Monday's Real Housewives Of Beverly Hills when Richards called her "anti-Semitic," and now Carlton is slamming her co-star further for the baseless accusation.
"In this day and age, why do I have to keep defending my faith? It's mind boggling to me. I have never once brought my religion up, they have and I've never insulted their religion, nor would I but they feel the desperate need to insult mine.
Article continues below advertisement
"So when she called me that horrific name it was honestly devastating to me. I have never been called anything so hateful," Carlton wrote on her Bravo blog.
The Wiccan's initial reaction was anger, as she stormed away from the bash.
"I immediately covered my pain with anger, until I got home and it turned to tears. It took a while to get past that for me. You can call me a bi--h, witch, or whatever but one thing I'm not is prejudice, it was shocking to me," she wrote.
"I just don't think she's a good person. She is seriously crossing a line," Carlton added.
Although Carlton likely won't kiss and make up with her co-star anytime soon, Kyle regrets her comments... sort of.
"Clearly she is not being honest and is just looking for a problem with me. I don't even know Carlton. However, I do feel bad that I accused her of being anti-Semitic. But, in this town, if you're anti-Semitic, you might as well pack up and move, so I should have been more cautious with my words," Richards wrote on her Bravo blog.
After this season's drama, Kyle admitted that she doesn't see herself being friends with Carlton – ever!
"I have been nice and did try to make an effort to get to know her. I honestly do not care what Carlton thinks about me. I am done making any effort with Carlton and will not subject myself again to her negativity.
"Carlton is not someone I could ever see myself being good friends with," she said.