James Storms Off Set After Tom Sandoval Accuses Him Of Mixing Drugs & Booze!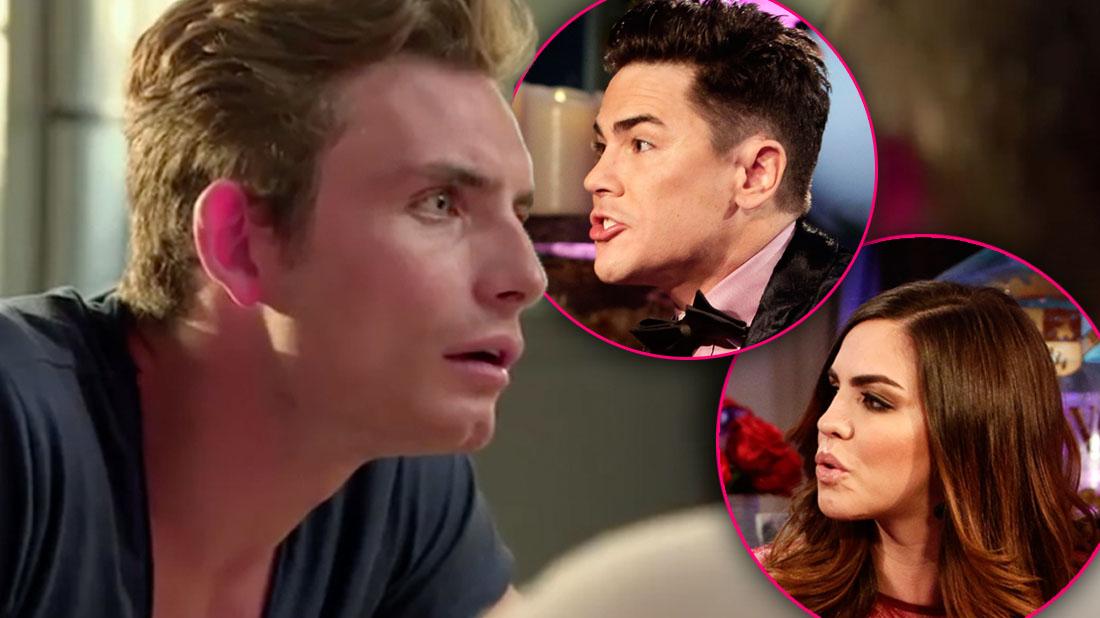 Article continues below advertisement
"I've let a lot of things he's said about me roll off my back and he's apologized but I knew he didn't mean it and he said it again. At the end of the day I don't regret that at all," Maloney said about complaining that Kennedy called her "fat."
Maloney said that she couldn't take the body shaming any longer. "I've taken it in stride for three years. Everyone has been talking about it. People like him have made me feel bad about my body."
Tom Sandoval pointed out why everyone thought she was hypocritical.
"You called Lala a whore. You waited like two years to apologize," he yelled at her. "You're f**king hypocritical. You're all hypocrites. I'm not trying to get somebody fired because they tell me I'm dumb!" which Maloney said to Sandoval in the previous episode.
"Were you surprised people called you the villain?" Cohen asked her.
"Oh, very much," she said. "I think a lot of people really missed the point. That this is the point that this is about standing up for yourself. At the end of the day I really did something that I was proud of and I thought was noble. And f**k it. It felt good. So, no regrets."
Article continues below advertisement
Kennedy also tried to insist that he had changed and wasn't "drinking and partying," anymore, but Maloney called him out, saying that she had seen him "sh*t faced" at a recent party.
Kennedy admitted that he was still drinking, and Lisa also called him out, saying: "You're not always honest, are you, about your sobriety?"
Sandoval, who was his biggest defender, pointed out: "I think when I've seen with you, James, be at your absolute worst is when you're mixing alcohol with other things. I see you have a beer, be totally chill, totally fun, mix it with other things."
Kennedy interrupted him, asking: "What other things? I'm smoking weed. I drink vodka."
Sandoval coyly said: "More uppers-type things," and Kennedy quickly shut that down.
"No, I don't," he said but Sandoval continued. "Well, that's like your kryptonite."
"That's not my thing so shut your mouth," Kennedy told his only defender on stage.
Vanderpump admonished him and Kristen Doute ripped into him: "The one person who has had your back the entire time and you speak to him like that?"
Article continues below advertisement
"I think you had a drink at lunchtime," Vanderpump said, and he justified his anger as "I'm sitting on a show with eight people screaming at me."
He then ripped into Stassi Schroeder's "ugly" extensions but tried to explain his reasons for drinking.
"Sometimes I can go into social anxiety. I feel like I need to be on. It gets hard for me sometimes," he said, adding that "after a whiskey or two," he feels better.
Cohen asked him if he was still helping his family and a fight exploded. Doute and Maloney said he didn't deserve sympathy for helping his family and he ripped into them. "I f**king hate you people," he said.
"I admire you for helping your family, but he uses it for justification for his behavior and that is bullsh*t," Tom Schwartz said.
Vanderpump defended him, saying: "I don't think he does use it for justification," and Maloney was incensed that she didn't get "compassion" for having a brain injury that gave her depression.
Article continues below advertisement
But Doute crossed the line as Vanderpump pointed out. "His family, they're a bunch of cheap bastards. They're f**king losers," she said.
"I feel awful for him that he's raised by a bunch of f**king a**holes," she said and Vanderpump shut her down.
"You do not talk like that," she told the employee that she had the least affinity for and Kennedy stormed off the stage.
"I'm not going to sit there and listen to them talk sh*t about my family if you don't expect me to rip someone's f**king head off," he said.
Billie Lee made an appearance, confronting Katie about not inviting her to Girls Night Out. Katie insisted that it was "an oversight," that she wasn't included but Lee didn't believe her, even after Vanderpump defended Maloney.
"You took it as transphobic," Cohen pointed out and she said that she did not feel supported and her confrontation with Lala Kent was a sore point.
"Lala why is it so hard to have a conversation with someone that disagrees with you without storming out," Cohen asked her.
Article continues below advertisement
"It's just exhausting to school people on life," Kent snapped back.
"Lala, you say the meanest things to people," Lee said to her, recalling that she called her "trash."
"You acted like trash that day," Kent retorted, and Lee told her: "You act like a high class prostitute all the time."
Vanderpump told Kent "That's no way to behave and you damn well know it," but she didn't care and said she would "do it again."
Kent also admitted that she went on a trip to Disneyworld with her family and her fiancé Randall Emmett's family and she was "drunk four days straight," so she quit drinking on October 22, 2018. She told Cohen she hadn't had a drink since and never would again.