'Vanderpump Rules' Recap: Furious Lala Kent Lashes Out On Billie & Raquel After Dad's Death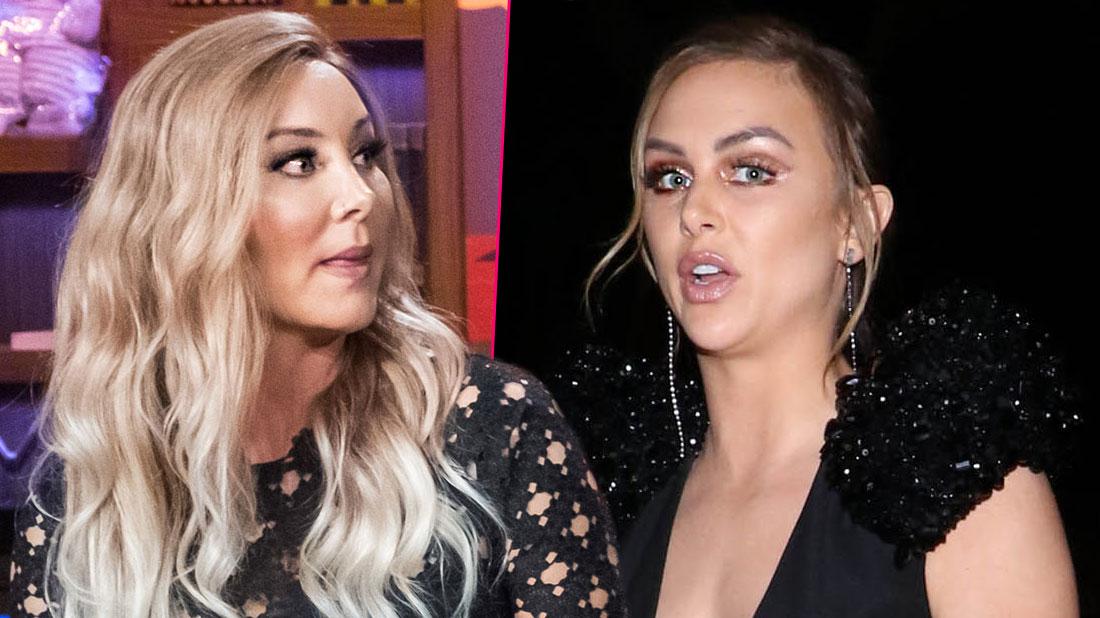 Lala Kent lashed out on the latest episode of Vanderpump Rules, and no one was safe from her wrath!
Following the tragic death of her dad, the stunner had no time for nonsense and made it clear to her co-stars that her patience was wearing thin.
James Kennedy and his girlfriend, Raquel Leviss, were Kent's first victims.
"I feel like it is a luxury to be friends with me, you don't just get that opportunity and you f**k it up and get it again," she told Stassi Schroeder and Ariana Madix.
Article continues below advertisement
"And it was me questioning your character," Billie told her.
"That's a big thing. I would rather you just say I'm a b**ch," Lala replied.
"You called me every name in the book," Billie said, reminding Lala that she called her "trash."
"You acted like trash that day," Lala replied.
"My whole question is, why do you think you're better than people?" she asked Lala, who told her it was "called confidence."
Article continues below advertisement
"Putting someone down or calling them down is not confidence, sweetie," Billie told her, which enraged Lala.
"Okay, now that you have passed judgment on me it's time for me to pass judgment on you," said Lala.
"I'm allowed to question your character as a human being," Billie told her, but Lala disagreed.
"And I'm allowed to question yours, and I think you're a snake," she replied.
Lala then turned her anger against Raquel, saying she overheard her saying she was "Playing the dad card."
"I would say that Raquel has lost her damn mind, but you have to have a mind in order to lose one," Lala said in her confessional.
She then confronted Raquel, who said she wasn't "taking responsibility for your actions."
"Be quiet," Lala told her. "Let me tell you something. Number one, I think you have a screw loose. I think that you as a woman do not sit there and empower other women. No, I don't empower you because I think you're pathetic. How dare you say I'm using my dad?"
Article continues below advertisement
"Shut the f**k up. Don't ever, do not ever f**king bring up my dad," yelled Lala. "Guess what I thought you were a f**king dummy before my dad died. You f**king Bambi-eyed b**ch."
Billie got involved again, and told Lala to "get the f**k out."
Tom Sandoval was eating at Lisa Vanderpump's West Hollywood hotspot with Ariana Madix when they witnessed Kent's fury.
"Sitting at the entrance of SUR lounge yelling. Would Lala get fired for that? No. James would," Sandoval said.
"Lala is very fragile now, but she cannot expect everyone in this world to tiptoe around her," Ariana, who lost her own father five years earlier, said. "Life goes on and people are not going to tiptoe around you every time something goes bad. It's not always just about you, you, you. Part of me feels like… 'Toughen the f**k up.'"
Soon, James confronted Lala about the way she talked to his girlfriend.
Article continues below advertisement
"She needs to stop being a c**t," she told him.
"Lala would never admit this. She lost so many amazing qualities so long ago and when she sees that in Raquel, she wants to tear her down because that's what bullies do," James said in his confessional.
Billie jumped into the conversation to defend her friend James, only to reignite her feud with Lala.
"Not only are you boring to speak, you're boring to look at," Lala told Billie, who called her a "psycho."
"You want to see a psycho, get the f**k out of my face," Lala said, lunging toward Billie.
"You're f**king pathetic," Billie said.
In the months since filming, Lala seems to have changed her ways. This month, she claimed she's an alcoholic, and is five months sober after years of outbursts and wild behavior. A source told RadarOnline.com she now is thinking of leaving the show that made her a star.
"She does not want the things she used to want," a source explained.