'Vanderpump' Brawl! Andy Cohen Breaks Up Heated Fight Between Jax & James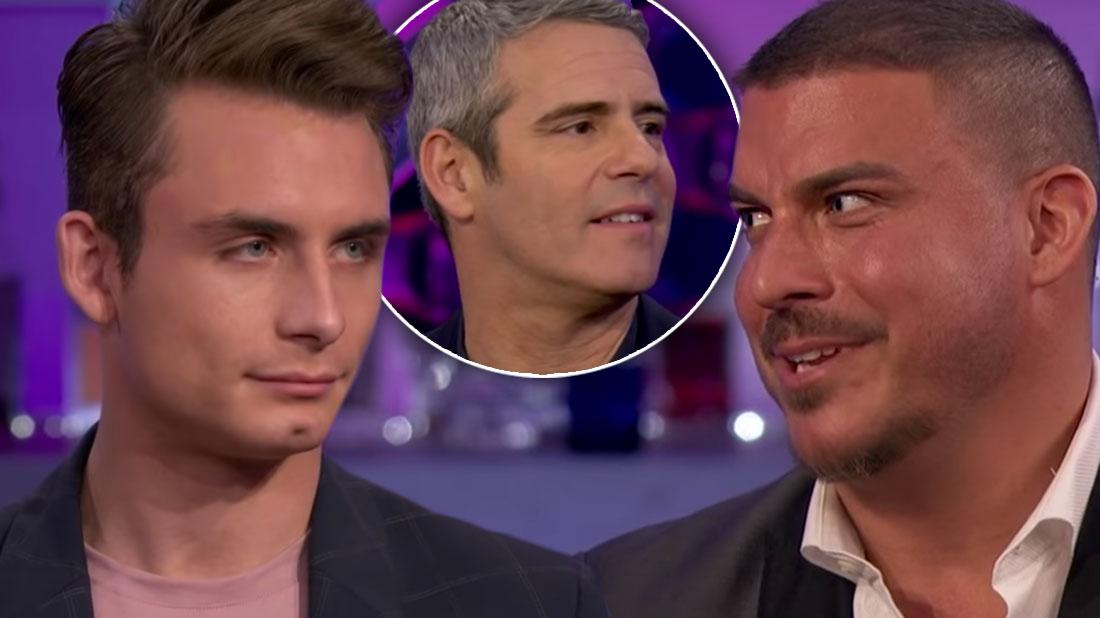 Andy Cohen had to stop his reality kids from fighting on the Vanderpump Rules reunion part 1, screaming "Guys, shut the f**k up," as tensions exploded on set.
Kristen Doute dropped the first bombshell of the night, admitting that she and her boyfriend Brian Carter had broken up.
Stassi Schroeder confessed that her evil drunk side, which she called the "dark passenger" hadn't made an appearance in six months.
Article continues below advertisement
Kennedy tried to apologize for a "freestyle" rap where he brought up Taylor's cheating in front of Brittany Cartwright — a complete fail.
"I didn't realize it would be that impactful. I said 'Sorry' and I'll say it again," Kennedy said, but no one accepted his apology.
"It was mixed up. I felt so bad that I embarrassed you," he continued, but even Schroeder wasn't buying his excuse.
"It feels like you say 'Sorry' because you're not included," she said.
Article continues below advertisement
Tom Sandoval took Kennedy's side, pointing out to Taylor that he too had been a jerk but was never "excluded and kept out of things."
Doute piped up, telling Kennedy: "You've never been a part of this friend group https://radaronline.com/exclusives/2019/04/vanderpump-rules-recap-everyone-hates-james-kennedy/," and James pointed out that she "literally" was the one that brought him into the group.
Kent then included herself in the argument, telling Kennedy: "You were one of the funnest friendship I have ever had. I loved our friendship I adored it," but she said it was painful "To watch you burn every bridge and look behind you."
Kennedy slammed: "You were the last bridge. Consider it burned."
"I don't need you, Lala," he told her.
Then Kennedy's girlfriend Raquel Leviss joined the group, only to have the fighting escalate after Vanderpump told her she got the job at SUR.
Everyone pointed out that Kennedy was accused of cheating on Leviss multiple times and she never believed anyone.
When Leviss called herself a "beauty queen" Taylor parroted the remark and all hell broke loose.
Article continues below advertisement
"He's belittling her as she's talking," Sandoval pointed out about Taylor.
"He's not belittling Raquel," Cartwright said defending her fiancé.
"How come you don't yell at James, Ariana?" Cartwright yelled and lost her temper at Sandoval and Ariana Madix.
"You're supposed to be our best friends. It is getting a little f**ked up," she yelled in her Kentucky twang.
Leviss finally confessed that she did not believe Kennedy was completely faithful https://radaronline.com/exclusives/2019/05/vpr-rumble-james-kennedy-slams-lala-kent-after-her-fiances-50-cent-feud/ to her, and Madix pointed out that after Leviss and Kennedy moved in together they considered it an fresh start.
Katie Maloney was still furious that Kennedy called her fat and said: "He deserves a lot worse than getting fired from SUR."
Kent told Leviss why she wasn't a fan.
"Just because you have a vagina doesn't mean I'm going to support you," and she explained that Kennedy called her a "c**t" in front of her dad and Leviss didn't defend her.
"I don't remember that," she told Kent.
As Taylor and Kennedy bickered back and forth, Kennedy ripped him as the "guy who sh*ts with the door open," and Cartwright said she loved him for it.
Article continues below advertisement
Kennedy apologized for sending a mean tweet about Kent and Taylor's father's death, but he then called out Taylor for sending a rude tweet about Leviss, which Taylor tried to deny.
"Jax, your phone number was connected to the tweet," Madix pointed out.
That turned into Taylor getting up out of his chair to confront Kennedy, but Cohen got in the middle of them.
"I'm not talking about your f**king dad," Kennedy told him but Taylor ripped into Leviss.
"Your girlfriend is useless. She's a b**ch," Taylor said, so Kennedy ripped into Cartwright.
"Go to Kentucky, you belong there with those hillbillies," he told her.
Doute ripped into Leviss, calling her dumb and Sandoval again tried to intervene.
"Every single time James says a f**king word you jump on him," he said to Doute.
"You're obsessed with me you dumb b**ch," Kennedy said to Doute.
"You are so unwanted it is ridiculous," Taylor said and Cartwright told him he was a "horrible person."
Hearing this, Kennedy took back his apology and said "I don't give a f**k about you b**ch."
Sandoval continued defending Kennedy, telling Cartwright: "Jax talks s**t about his girlfriend so he talks s**t about Jax's girlfriend," but Cartwright didn't care.
And Doute said "Tom, you're sounding dumb right now."
As Taylor and Sandoval went back and forth Cohen finally yelled "Guys, shut the f**k up!"
Stay with RadarOnline.com for weekly recaps of Vanderpump Rules.