James Kennedy Slams Nasty Cheating Accusations After Girlfriend Raquel Confronts Him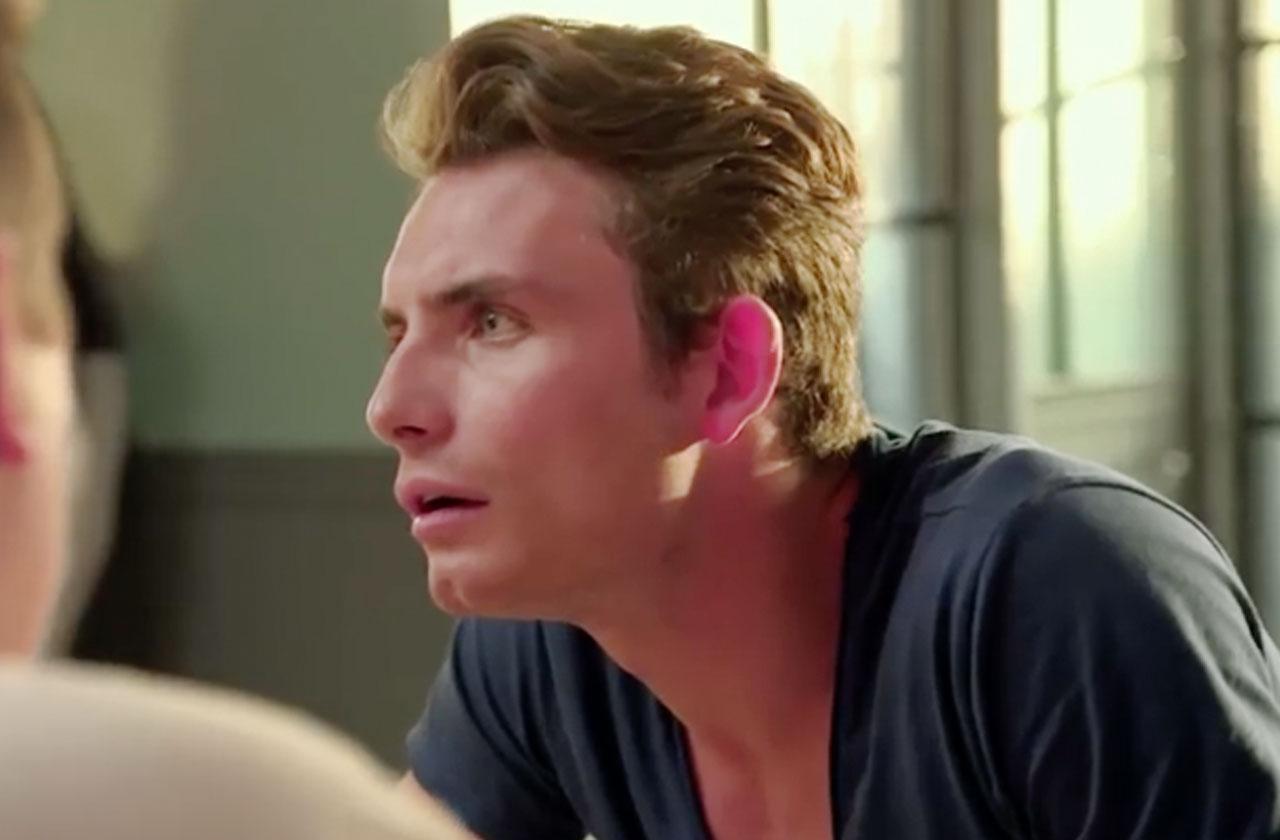 James Kennedy's girlfriend refuses to believe that he's a lying cheater!
Vanderpump Rules' new bad boy was feeling the heat from his Pride Weekend debacle, which continued on the beginning of Sunday night's episode.
"I'm all for equality but those b****es can go f**k themselves," a wasted Kennedy screamed after he was accused of cheating on his girlfriend, Raquel Leviss, with a woman named Hope.
"If I believe James then I need to stand up for my boyfriend. If I believe Hope then I need to break up with James. I don't know," a confused Leviss said before confronting Kennedy about his alleged infidelity.
Article continues below advertisement
The other woman told Leviss that she and Kennedy didn't have just a one-night stand.
"I've been sleeping with him for three years," she told Leviss. "This is me telling you he is a horrible person and you're not."
But Leviss refused to take her word for it. "I feel like I need more proof," she told her.
"If you took a bad James Bond felon, and had him drunk on fireball, and then had him played by an emaciated Muppet that would be less annoying than James Kennedy," co-star Stassi Shroeder joked about her SUR co-worker.
Lisa Vanderpump ordered Leviss to get control of her boyfriend. "You need to go and talk to him and make sure he does not have another sip of a drink ," she told her.
But Leviss confronting him again ended in a mess.
"Tell that w**re to go f**k herself," he said to Leviss about Hope's accusations.
"I'm so sick of these girls walking in with all of these accusations. Bottom line I want to stay with James," Leviss admitted.
Article continues below advertisement
Kennedy and Leviss had a much calmer conversation in their apartment where he insisted that he was faithful to her.
"I think it is just bullsh*t the way they come for me. This girl is a f**king stalker. The last time I had sex with her was 2 ½ years ago. We were f**k buddies, she would always be there."
Leviss then confronted Kennedy about his drinking. "I don't love the guy that you've become when you're drinking," Leviss told him. "I do not want you to get fired again."
Article continues below advertisement
"I'm sorry that James is a f**king a**hole," Schwartz told his wife.
Schwartz then confronted Kennedy about his comments, telling him his wife was "sexy and luscious."
Kennedy apologized in person but in his confessional said: "I made fun of her weight and everyone is blowing it up into this big thing. You know? Bigger than her."
But Maloney had had enough and went to tell Vanderpump that something needed to be done about Kennedy.
"This has been my home for almost nine years," she told the matriarch of the show.
"I don't think I am willing to work at a place where this is tolerated."
Also on Sunday's episode, another fight was brewing between Scheana Marie and the rest of the girls.
When they planned a girls night out, they purposely left Marie out and only Ariana Madix came to her defense.
"I have a feeling that Scheana will be disappointed to not be invited," Madix said.
Maloney disagreed. "She doesn't care."
Schroeder insisted they had every right to leave her out. "We are not being a**holes. We have tried so hard. This is all on her."
During the night out, Schroeder said that it was a treat not to have Marie with them. "I don't have to struggle to hear over Sheana's nails on her phone all night."
Stay with RadarOnline.com for weekly recaps of Vanderpump Rules!
We pay for juicy info! Do you have a story for RadarOnline.com? Email us at tips@radaronline.com, or call us at (866) ON-RADAR (667-2327) any time, day or night.