'They're F**king Lying!' James Goes On Nervous Rant As Cheating Scandal Explodes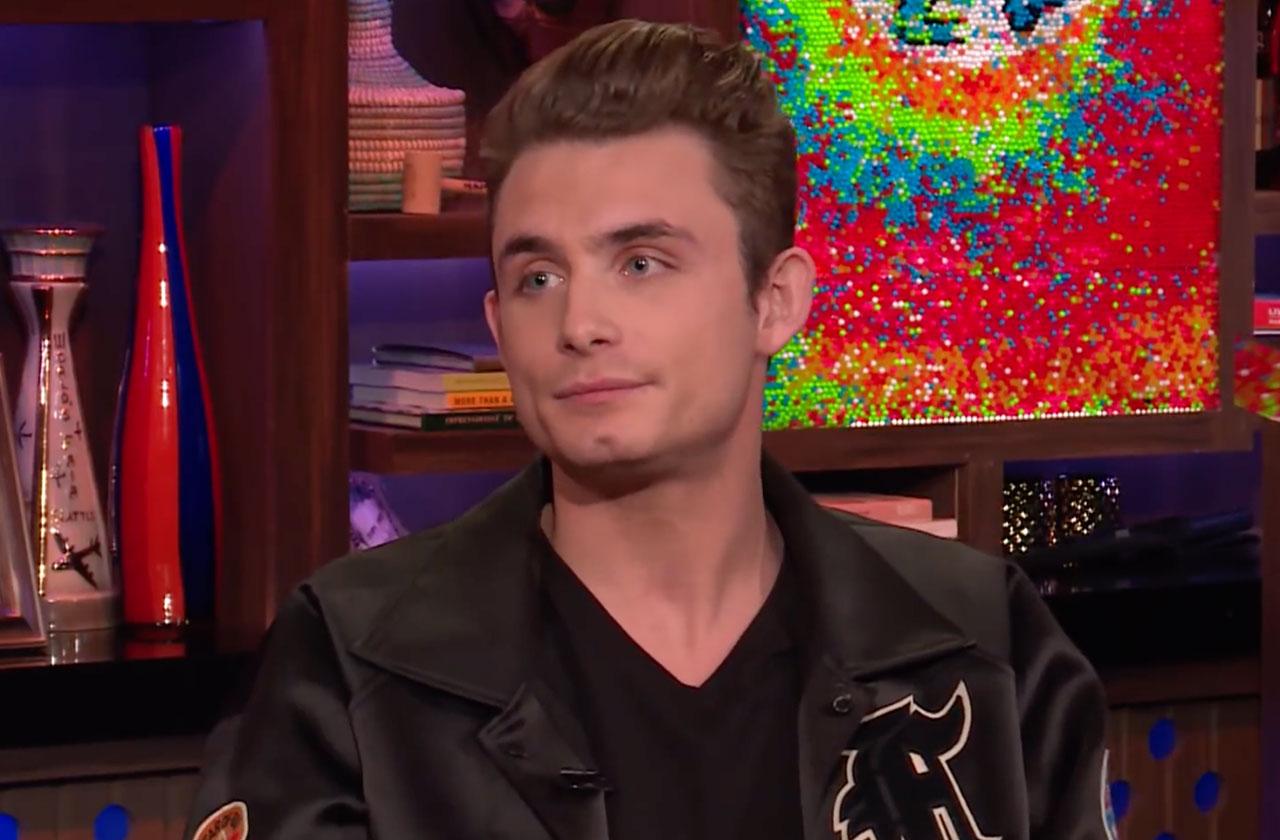 James Kennedy is the new Jax Taylor!
On the latest episode of Vanderpump Rules, Kennedy got accused of cheating and exploded in anger, denying the claims and slamming everyone who doubted him. Now that Taylor's settled down and getting married, is Kennedy becoming the new VPR bad boy?
The hunk's girlfriend, Raquel Leviss, told him she was "ambushed" by Kristen Doute and her friend Hope.
"Hope confessed that she had sex with you at Coachella," a stunned Leviss told her boyfriend at the Gay Pride Weekend celebration at Lisa Vanderpump's SUR restaurant.
Article continues below advertisement
"Tell me it's not true because I don't want to be an idiot," she tearfully asked her boyfriend. "Kristen's saying that you've had sex with multiple people."
Kennedy exploded. "Kristen's a f**king slut ," he yelled. "Kristen Doute is still obsessed with me. She is still showing up at work!"
In his confessional Kennedy said: "All she does is talk about how she pays for everything with Carter and James Kennedy is a f**king asshole."
The Vanderpump Rules DJ tried to assure his girlfriend that he was faithful.
"I have never cheated on you . I've never had sex with another girl other than you since I've been with you. They're f**king lying through their fucking teeth. Don't you f**king see that? Everyone is obsessed with me."
He claimed he wanted to ask her to marry him "someday like Jax does with Brittany."
Taylor observed the entire situation while bartending (he got his job back at SUR) and in his confessional made a very self-aware statement.
Article continues below advertisement
"A lot of girls did accuse me of cheating…And they were all true," he said.
Leviss was furious with Kennedy. "This isn't fun," she said. "Why do I have to deal with all this sh*t? James, seriously? Every single time someone comes up to me 'Oh, Raquel, I didn't know if you know or if you're ok with it but someone else had sex with your boyfriend.'"
But Kennedy only blamed his critics.
"All these stalkers, all these b**ches all these people who wish they were in my position," he continued.
"I'm trying to tell everyone how good of a person you are," Leviss told him and he lost his temper even more. "F**k everyone. Who cares?"
LaLa Kent was the next person to confront Kennedy and he ripped into her.
"You're the biggest b*tch I've ever met in my f**king life," he told her. "F**k off."
But Kent kept trying to tell Leviss about Kennedy's cheating.
"This is the James that everyone knows. Wake up Raquel!" she said. "I want to shake you. I'm in there with Hope when your man is there and you're at school. Wake up!"
Article continues below advertisement
Kennedy's girlfriend refused to believe her friends' remarks.
"Come on, you cannot be this dumb," Kent said to her.
"I'm not dumb, Lala," replied a conflicted Leviss.
"What is so hard for you to understand ," Kent said in her confessional. "When you were in Sonoma getting your degree in kinesiology your boyfriend was getting his degree in shoving his d*ck in people that are not you."
As Tom Sandoval supported Kennedy, Doute tried to get him to leave the party. But instead, he turned his anger on Katie Maloney when she said to him: "What's going on with your f**king pants dude?"
"Don't even get me started on you, darling. Those shorts aren't working for you babe," Kennedy said to Maloney.
"Katie can be a mean b*tch. Like trust me, ask Schwartz. He knows. I'm sure he knows the most. What a nightmare," Kennedy said in his confessional.
As Doute dismissed him, saying: "Bye, don't look at my friend. Don't talk to my friends," Kennedy ripped into Maloney again.
"She shouldn't be wearing those shorts they're not very flattering. Lose some f**king weight."
Article continues below advertisement
"James has a history of pointing out someone's insecurities and just using them as a weapon again them," said Maloney. "That is a pretty sh*tty quality to have. Come up with something a little more inspired than just calling me fat ."
Stay with RadarOnline.com for weekly updates of Vanderpump Rules.
Get the exclusive celebrity scoop on all the stars you love before any of your friends by subscribing to our new podcast Straight Shuter below!