Stassi Ditches James' Party, Compares Him To Charles Manson In Shocking 'VPR' Episode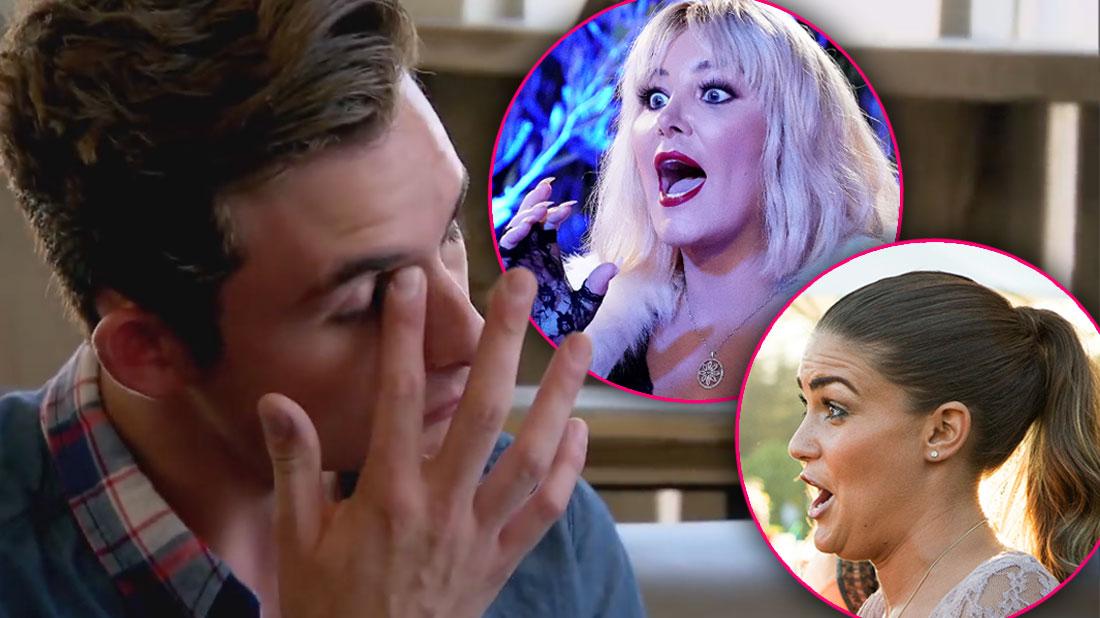 James Kennedy is enemy number one on Vanderpump Rules, and even though he barely made an appearance on the April 8 episode, he was the topic of conversation.
The group ended their trip to Mexico with Tom Schwartz apologizing wife Katie Maloney for ignoring her. He tried to make up for his actions by romancing her with sweet and savory treats in bed.
Meanwhile, Lala Kent had a panic attack and earned little sympathy from her co-stars.
Article continues below advertisement
"There are times where it gets to where I hit a breaking point," she said in her confessional.
"I struggled with anxiety for my entire life," she said, but revealed that since her father's death things had gotten worse.
"You don't know when it is going to come but you feel pretty helpless," said Kent.
While at their farewell Mexican dinner, Kent started to feel the attack coming.
"F**king f**k," she said and begged Stassi Schroeder to help her through it.
"It was a lot of partying and you haven't been doing that," Schroeder told her, but in her confessional, she was critical of her friend.
"Lala is taking this to a level that is borderline uncomfortable. It feels really over-the-top and dramatic," Schroeder said.
Tom Sandoval was critical too.
"I'm sure in Lala and Randall's relationship he gives her a lot of attention and he's not here and she needs attention from someone else," he said.
Article continues below advertisement
And her hotel roommate, Scheana Marie, was upset that Kent wanted her support but didn't want to make out with her the night before (Kent made out with Kristen Doute instead).
As they headed home, Marie sarcastically sympathized with Kent.
"Having to fly commercial is tough, I know," she said and Kent responded: "That part is f**king killing me."
Back in West Hollywood, Jax Taylor and Brittany Cartwright were planning their engagement party. Clearly missing from the guest list were Taylor's mom and SUR nemesis Bille Lee — a fact which caused major drama when they all returned to work.
At Lisa Vanderpump's WeHo hotspot, Kennedy's girlfriend Raquel Leviss invited her co-stars to a "Puppy Shower" party and was crushed when everyone said no.
"I've been away from James for three weeks," Taylor told her after saying no to the party invitation. "It was the best trip in seven years. I hate to say this because you look so sad. If it were just you, I would go."
His fiancée also declined.
"I'm shocked she doesn't want to come to my puppy party. I thought at least Brittany would go," a sad Leviss said in her confessional.
Article continues below advertisement
At SUR, Kennedy drama took over the spotlight — even though he wasn't there.
Lee asked Vanderpump if she could have Kennedy DJ at her "White Party," but Vanderpump turned her down.
"I would prefer you to get another DJ," the boss lady said.
Then, Kent approached them to get approval for the t-shirt she put over her outfit that Vanderpump said looked like she was in a strip club and Lee exploded.
"She gets to run around here half naked and she's a b**ch to everyone. I've gone through serious sh*t in my life, she makes people feel like sh*t," she said about Kent, but Vanderpump warned her to calm down.
"I'm going to go breathe because I'm f**king pissed off," Lee said, stomping away, which infuriated Vanderpump.
"Stop talking like that. You cannot talk to me like that. I don't care. You do not talk to me like that. You're using the f bomb. I am the decision-maker here, not you," she told Lee. "I've done nothing but support you."
She then ordered Lee to "have some manners and I want you to put a smile on your face."
Article continues below advertisement
Lee found Marie and complained about getting "into it with Lisa," over Kennedy. Sympathizing with her, Marie brought up her disastrous friendship with him.
"I love James too, he's my friend," Marie said. "I've learned how to separate myself." Then she told Lee that Cartwright and Taylor weren't inviting her to their engagement party because "They don't want you there because you remind them of James."
"That's high school. I did nothing wrong to them," Lee said and then turned on Marie.
"I hope you say that for me. I've stood up for you nonstop when it comes to them talking sh*t about you. You've been the outcast, you know that. You've been disrespected. Now I'm being disrespected," she said.
Lee then confronted Cartwright.
"Scheana told me you don't want to invite me to your engagement party because I have a connection with James," she told the bride.
Article continues below advertisement
"It's not that I don't want to invite you because of that. Whenever I talk to Jax about it he doesn't think you're a very trustworthy person," Cartwright told Lee.
"Whenever it comes to $75 a plate and we have to go with people we really know," Cartwright said in her confessional
"A lot of things have happened with our group of people and we don't want to have that fighting going on," she told Lee, who begged to be invited.
"I'm not a couple with James. I have so much love for you. Why aren't you including me?" she asked.
"Some of the people you're not getting along with are going to be my bridesmaids. And I don't want that at all with my family coming in. I don't want there to be all this tension going on," Cartwright told her.
Leviss was still at SUR trying to invite other VPR stars to her puppy party and failing.
"I would actually rather light one of my arms on fire before I went to something as boring as a puppy shower. There is no amount of alcohol that could make this fun," Schroeder said in her confessional after turning down the invitation.
Article continues below advertisement
"Did you sell the idea to them? Balloons and games and drinks and food?" he asked.
"It's just sucky for me. I'm trying to make new friendships with these people, and they want nothing to do with me because of you," Leviss realized.
"I'm over it. It's bullsh*t," Kennedy said. "This puppy party is going to be amazing. Screw them. Their loss. They're uninvited."
Leviss then asked him who Charles Manson was and he didn't seem to know either.
Vanderpump also "fired" Sandoval from SUR so he could work fulltime at TomTom just as she notified Schwartz that his $50,000 check for the business bounced!
Stay with RadarOnline.com for weekly recaps of Vanderpump Rules.